This project explored how GP surgeries can help people with long term conditions be more active.
Partners: Bangor University, Liverpool University, Canterbury Christ Church University, PRIME Centre Wales
Project team: Joe Langley, Remi Bec, Chris Redford and Gemma Wheeler
Introduction
Being physically active is one of the best things we can do to keep our physical and mental health as good as it can be. This study looked at how GP surgeries can help people with long term conditions to become more physically active and therefore carry on doing the things they need to do and enjoy doing.
Methods and analysis
This study is a realist evidence synthesis, with embedded co-production and co-design. Our role in this was to lead the participatory theory building, co-design and knowledge mobilisation.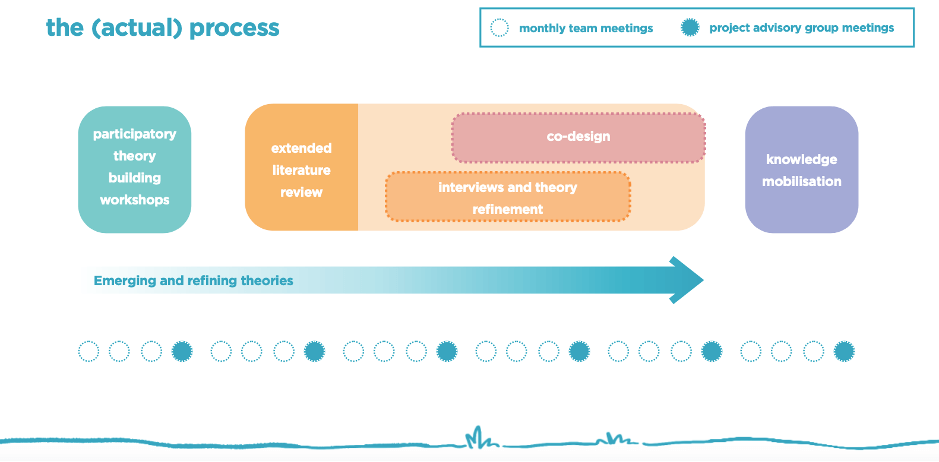 We asked people with long-term conditions, people working in GP surgeries and other experts about how to promote physical activity and improve physical function. We combined these ideas with those in research reports and developed ideas (or theories) of how to increase physical activity in people with long-term conditions. We also considered how these theories might work in different circumstances.
We then used these theories to design a new way of working with patients, health professionals and researchers. A product was made consisting of information for developing: the right setting to encourage physical activity, knowledge about physical activity, and a new role for someone who can encourage people to use local opportunities to be more active.
Outcomes
Here are the 5 theories and examples of the associated resources that were produced.
1. General practice consultations tend not to prioritise improving physical activity and function. If the approach adopted by the practice is supportive of physical activity, then encouraging physical activity will become part of usual routine. Presented in the form of a blueprint, this poster provides inspiration and advice for creating more opportunity to encourage physical activity in waiting areas.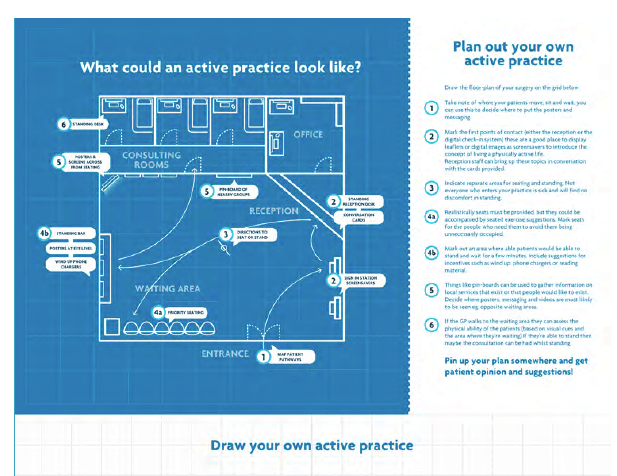 2. Physical activity promotion is inconsistent and uncoordinated. If physical activity promotion had more resources, then this would improve opportunities to change behaviour. The kit of resources we designed can be branded in keeping with any existing physical activity scheme, as in the example below where it carries the branding of Move More, a Sheffield based scheme to get the city moving. Space can be reserved for the logo and branding of any such scheme that wants to build the kit into its offering. In these cases the 'Function First' branding becomes smaller and secondary to the scheme itself.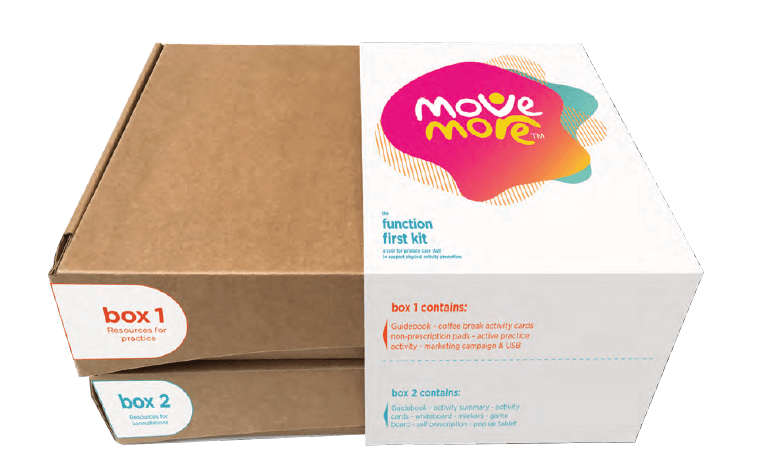 3. People with long-term conditions have differing physical activity levels, attitudes and opportunities. If physical activity promotion is adapted to individual requirements, then people will be more likely to carry on. After a series of reflective activities, personal goals can be added to the simple folding card below, small enough to fit into a wallet. It acts as a visual reminder of what was discussed and could be referred to during follow up consultations.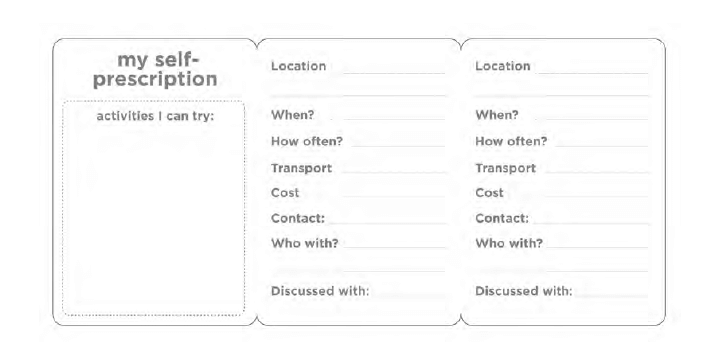 4. Many general practice staff lack knowledge and confidence about promoting physical activity. If training makes staff more capable, then they will be better at promoting physical activity.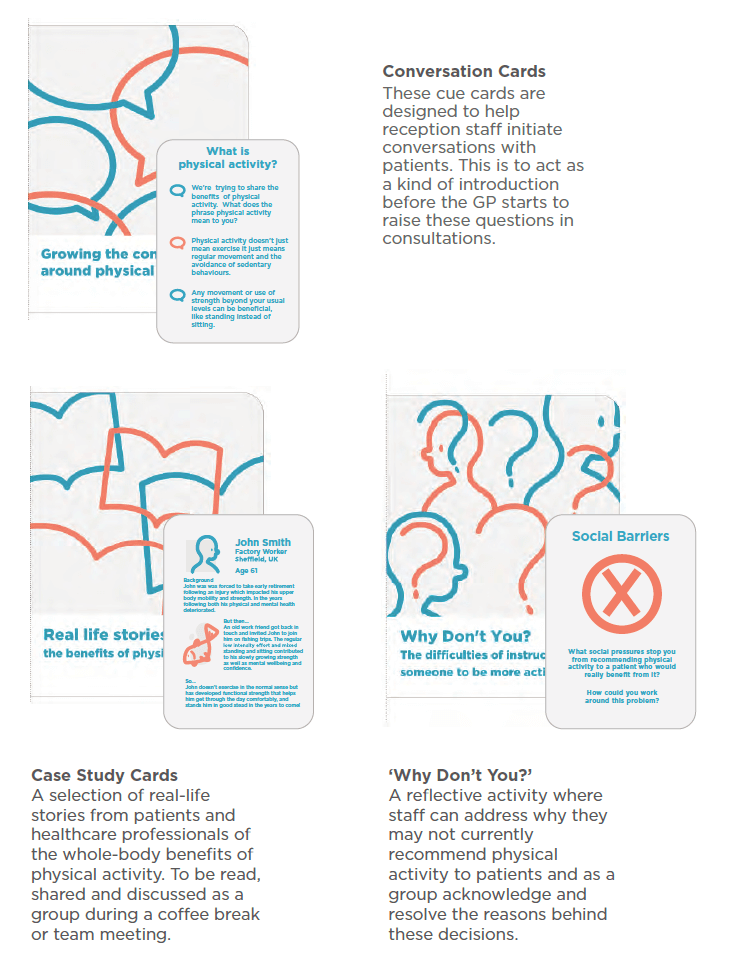 5. If a programmes is credible to patients and professionals, then they will trust it and fully engage with the programme. Non-prescription pads are tools that help to communicate why you haven't received treatment in the form of medication, as might be expected. This method could be employed in this case, where physical activity could be recommended but not necessarily prescribed in the traditional sense. This also acts as a 'seal of approval' from the GP to attend one of the sessions with a Physical Activity Advisor who can help to provide personalised and achievable activity recommendations. This approval from the GP helps the programme's credibility.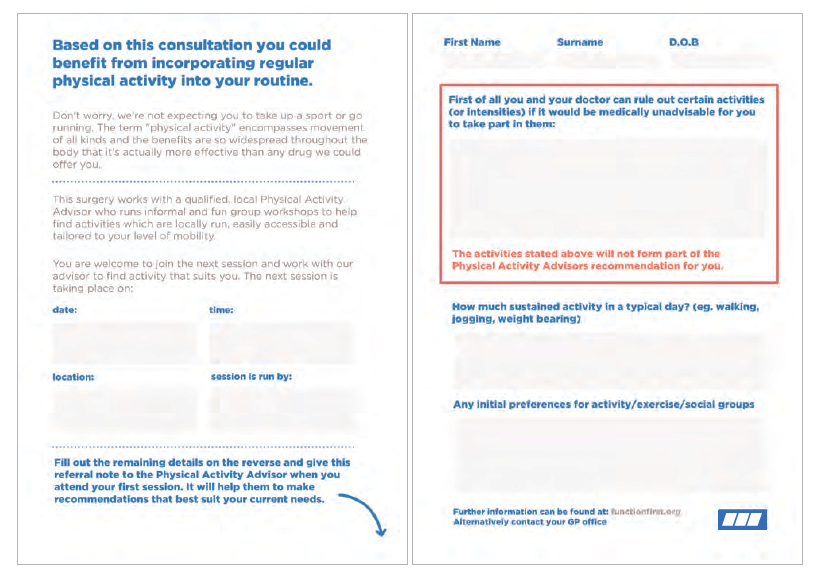 Outputs
Law R, Langley J, et al. Promoting physical activity and physical function in people with long-term conditions by primary care: Realist synthesis with co-design (Function First). NIHR Journals Library, Southampton (UK); (under review).
Law, R., Williams, L., Langley, J., Burton, C., Hall, B., Hiscock, J., Morrison, V., Lemmey, A., Patridge, R., Lovell-Smith, C., Gallanders, J., Williams, N. H., 'Function First – Be Active, Stay Independent' – Promoting physical function and physical activity in people with long-term conditions by primary care: A protocol for a realist synthesis with embedded co-production and co-design. BMJ Open, 2020;
Langley, J; Partridge, R; Law, R; Williams, L; Burton, C; Hall, B; Hiscock, J; Morrison, V; Lemmey, A; Cooney, J; Lovell-Smith, C; Gallanders, J; Williams, N, 'Playing' with Evidence; combining creative co-design methods with realist evidence synthesis. Design4Health, Amsterdam, July 2020, Vol 2, page 96, https://research.shu.ac.uk/design4health/wp-content/uploads/2020/09/D4H2020-Proceedings-Vol-2.pdf
Law, R; Williams, L; Burton, C; Hall, B; Langley, J; Partridge, R; Hiscock, J; Morrison, V; Lemmey, A; Cooney, J; Lovell-Smith, C; Gallanders, J; Williams, N, "What is the role of primary care in reducing the decline in physical function and physical activity in people with long-term conditions? Findings from realist synthesis involving theory-building workshops, systematic and iterative literature searches and co-design workshops." SAPC North Region Annual Meeting, 28th-29th November 2019, Preston
Law, R; Williams, L; Burton, C; Hall, B; Langley, J; Partridge, R; Hiscock, J; Morrison, V; Lemmey, A; Cooney, J; Lovell-Smith, C; Gallanders, J; Williams, N, "What is the role of primary care in reducing the decline in physical function and physical activity in people with long-term conditions? Findings from realist synthesis with co-design." PRIME Centre Wales Annual Meeting, 27th November 2019, Cardiff University. http://www.primecentre.wales/resources/5.%20Rebecca%20Law_Physical%20function_PRIME2019.pdf
Law, R; Langley, J; Partridge, R; Williams, L; Burton, C; Hall, B; Noorani, Y; Hiscock, J; Morrison, V; Lemmey, A; Lovell-Smith, C; Gallanders, J; Williams, N, 'What is the role of primary care in reducing the decline in physical function and physical activity in people with long-term conditions? Findings from realist theory-building workshops using LEGO® SERIOUS PLAY®.' Society for Academic Primary Care Annual Scientific Meeting, Exeter, UK, 3-5 July 2019
Langley, J., Partridge, R., Law, R. J., Williams, N., 'Exploring Primary Care physical activity interventions using LEGO® SERIOUS PLAY®', Society for Academic Primary Care Annual Scientific Meeting, Exeter, UK, 3-5 July 2019
Wolstenholme, D., Langley, J., 'Exploring Collective Makings Contribution to Integrated Knowledge Translation', Knowledge Utilisation Colloquium, Canada, 26-28 June 2019
Law, R; Williams, L; Burton, C; Hall, B; Langley, J; Partridge, R; Hiscock, J; Morrison, V; Lemmey, A; Cooney, J; Lovell-Smith, C; Gallanders, J; Williams, N, What is the role of primary care in reducing the decline in physical function and physical activity in people with long-term conditions? Findings from realist synthesis involving theory-building workshops, systematic and iterative literature searches and co-design workshops. SAPC South West Region Annual Meeting, Southampton 13th-14th March 2019