An evidence-based group programme created by occupational therapists and people with dementia for individuals at an early stage of their dementia journey.
Partners: Alzheimer Scotland

Team: Claire Craig & Helen Fisher

Journeying through Dementia is an occupation-based intervention that aims to support people at an early stage of their dementia journey to engage in meaningful activities and maintain community connectedness.
The programme was developed in partnership with people with dementia who spoke of the value they attached to continued participation in everyday occupations and in new learning. Throughout all the co-creation activities, people with dementia were clear that wanted to have the opportunity to access groups that did not just talk about the diagnosis but that offered practical advice and support of how to continue to live well with the condition.
This intervention directly supports delivery of ambition 1 of Connecting People, Connecting Support (Alzheimer Scotland 2017) of enhanced access to enable people to be supported to look after their own health and wellbeing.
Emphasis throughout is placed on 'doing' rather than simply talking about strategies and challenges. Individuals are given the opportunity to put ideas into practice either within the group or through organized out of venue activities. This helps to build confidence and also encourages active problem solving. The community is seen as a place where skills are enacted and the place where individuals can access a wide range of resources to support roles, maintain and develop relationships and to experience enjoyable leisure activities, which support well-being.
Pilots have been carried out in Scotland with Alzheimer Scotland, Fife Health & Social Care Partnership and NHS Grampian, and the South Carmarthenshire Older Adult Mental Health Team, based in Prince Philip Hospital, Llanelli, Wales. The following video features our Llanelli Journeying Through Dementia Group.
Background
Journeying through Dementia was inspired by a growing number of people living with dementia who were meeting together in their communities to offer each other support. This approach was best exemplified by the work of the Scottish Dementia Working group.
Gail Mountain and Claire Craig (2004) had successfully undertaken research to develop and facilitate an occupation based group aimed at community living older people called Lifestyle Matters which had enabled individuals to connect with valued occupations in later life and to adapt and enact meaningful occupations in the community and this raised the question whether a similar model (peer sharing, group work and didactic teaching) could be used with people with dementia.
Claire Craig then worked nationally with people living with the condition to build understanding of what people with a recent diagnosis of dementia identified as being helpful or resources and support they felt would have increased their quality of life. The results are reported in a paper: What should be in a self-management programme for people with early dementia? (Ageing and Mental Health, 2012)
This research then formed the basis from which Claire Craig developed the initial Journeying through Dementia Intervention. For the next ten years small pieces of funding supported the refinement of the programme and a total of six groups were facilitated, each time people with dementia gave feedback and helped Claire and Helen shape the final iteration of the programme and kit of resources that you see before you now.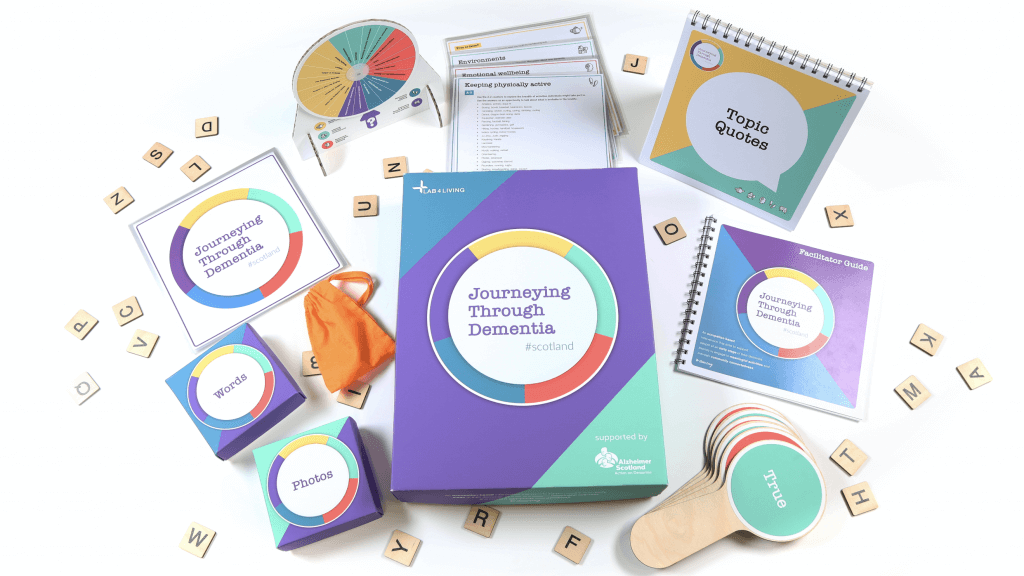 With special thanks to Design Futures Packaging for bringing the resources to life.
When I go home from here, I feel better and do more.
The more you do, the more you can do.

Journeying through Dementia participant
I feel we're helping one another, being on the same wavelength.
I have new friends I don't think I will ever forget.

Journeying through Dementia participant
News items and publications
Project website: www.jtd.org.uk
Blog post: Lab4Living's 'Journeying Through Dementia' takes to Wales!
Blog post: Design Futures shortlisted in three categories at the 2019 UK Packaging Awards
Policy Document: Connecting People, Connecting Support
Blog post: Lab4Living's 'Journeying Through Dementia': Living well with dementia in Scotland
Blog post: 'Journeying Through Dementia': Where design meets dementia
Video: Journeying Through Dementia Facilitator Feedback 2019 https://youtu.be/JTFEYt9x3Ao
Video: RCOT Poster Presentation – www.dementiatogether.online https://youtu.be/6QsWBL_UbjM