This project aimed to create a resource for people living with Dementia and their families, helping them to make sense of the condition together and finds ways to live well.
Partners: The University of Sheffield, The University of Derby, NIHR Children and Young People MedTech Co-operative, Sheffield Hallam University
Project team: Claire Craig and Helen Fisher
Background
The Making Sense Together resource was developed as a consequence of our research with people with dementia and their supporters. They felt resources fell in two camps: those aimed at people living with dementia and those at families. We wanted to create a resource that could offer a space for shared meaningful activity and discovery, helping those living with and supporting the person to make sense together, to build understanding and to find ways to live well with the condition.
Output
When we developed the connecting people connecting support website we created a section of downloadable materials and based on the feedback of people with dementia, family members, care homes and the link workers who shared these resources with individuals and their families we knew we had the right format and have created a resource that has been tested and validated by people living with dementia, supporters, occupational therapists, care home workers and link workers across Scotland.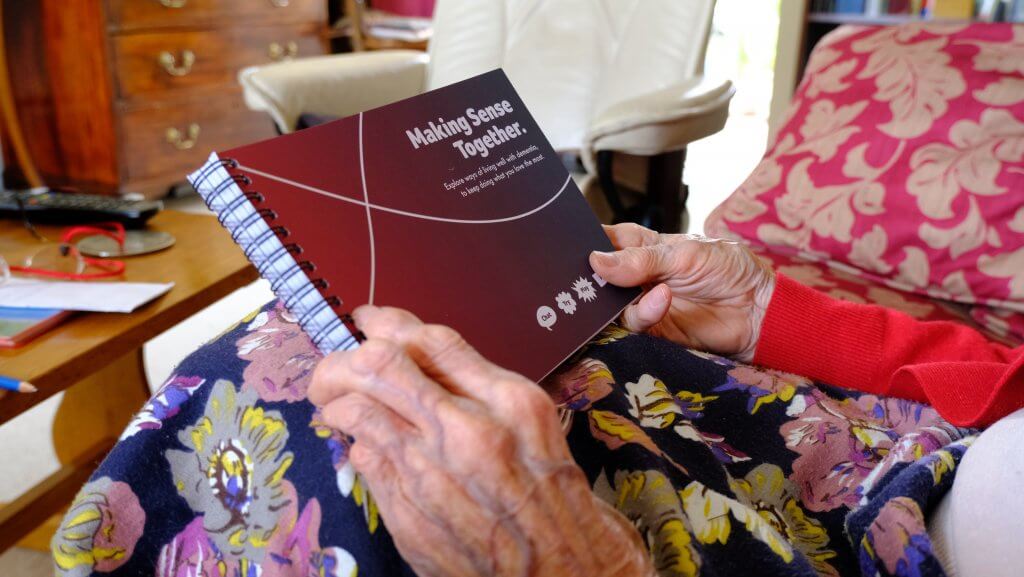 Impact
The following are just a few of the comments about the materials by people living with dementia and their supporters:
"This little book has been a complete life-line…there aren't the words to express the difference it has made to our understanding of dementia, but most importantly to our relationship."

– Family member
"Book covers lots of good practical methods to live well with dementia which is great for people starting their journey. I would recommend this book." 

– Person with Dementia
"It gives the information you need but makes it enjoyable to learn new strategies, tips and hints."

– Person with Dementia
"It made me feel more confident with my parent who has Alzheimer's, the hints and tips throughout are all easy to try and making up a playlist has been great."

– Family member