This project used creative methods to engage children with narcolepsy, alongside their parents and/or siblings, to co-design a head and neck stabilising aid to support them when travelling in the car or on public transport.
Partners: Sheffield Children's NHS Foundation Trust; NIHR Devices for Dignity MedTech Co-operative; NIHR CYP MedTech; The University of Sheffield.
Project Lead: Dr. Joe Langley (Sheffield Hallam University)
Researchers: Dr Gemma Wheeler, Ursula Ankeny and Naomi Raszyk (Lab4Living); Prof Heather Elphick, Lowri Thomas and Ruth Kingshott (Sheffield Children's NHS Foundation Trust); Nathaniel Mills (NIHR Devices for Dignity MedTech Co-operative).
Background
Narcolepsy is a disabling sleep disorder characterised by excessive daytime sleepiness and muscle weakness (known as cataplexy) precipitated by strong emotions. Onset commonly occurs in childhood or adolescence, and the condition affects approximately 0.025% of the general population (Plazzi et al 2018). Narcolepsy can have a huge impact on a child's life and their family. Whilst some supportive aids are available (i.e. hand-held fans to help the child stay awake), some of the challenges faced by these children in daily life are less obvious to identify and understand. To design for such challenges requires close collaboration between families, healthcare professionals and designers.
The Sleep Clinic at Sheffield Children's host an annual Family Day for families with children with narcolepsy and cataplexy. Previous co-design workshops (involving Lab4Living) run during this Family Day with children who have narcolepsy, and their families, identified several key unmet needs for this population. Families voted travel as being particularly problematic – keeping the child safe and comfortable when they are sleeping (deeply) in the car – with no suitable solution currently available. This project therefore aimed to understand what a neck stabilising aid for travel should do for children living with the condition, how it should feel and how it should fit into their existing travel routines.
Stakeholders involved
Children with narcolepsy, as well as their parents and siblings, were involved at each stage as equal partners in the project. We developed co-design activities in collaboration with healthcare professionals from the Sheffield Children's Hospital narcolepsy clinic to ensure the children's physical, emotional and social needs were taken into consideration. The project was also an exciting opportunity to host a secondary school student with narcolepsy for a placement here at Lab4Living.
Methods
We organised two initial creative co-design workshops with families for them to reflect on and share their experiences of car journeys, including their current challenges and the 'hacks' that they have already developed. Families also prioritised key features they wanted to see in future head and neck supports, as well as test/edit current, commercially-available products (i.e. travel pillows). The Lab4Living design team developed a range of sketch ideas and compiled into 'activity packs' for children and families to give their feedback on in clinic.


Sample of some pages in the activity booklet
Following this, we created a range of nine physical prototypes. We tested them in a final workshop using modular designs (to adapt to children's height and weight) and car seat rigs (to support children's 'immersion' in the testing experience).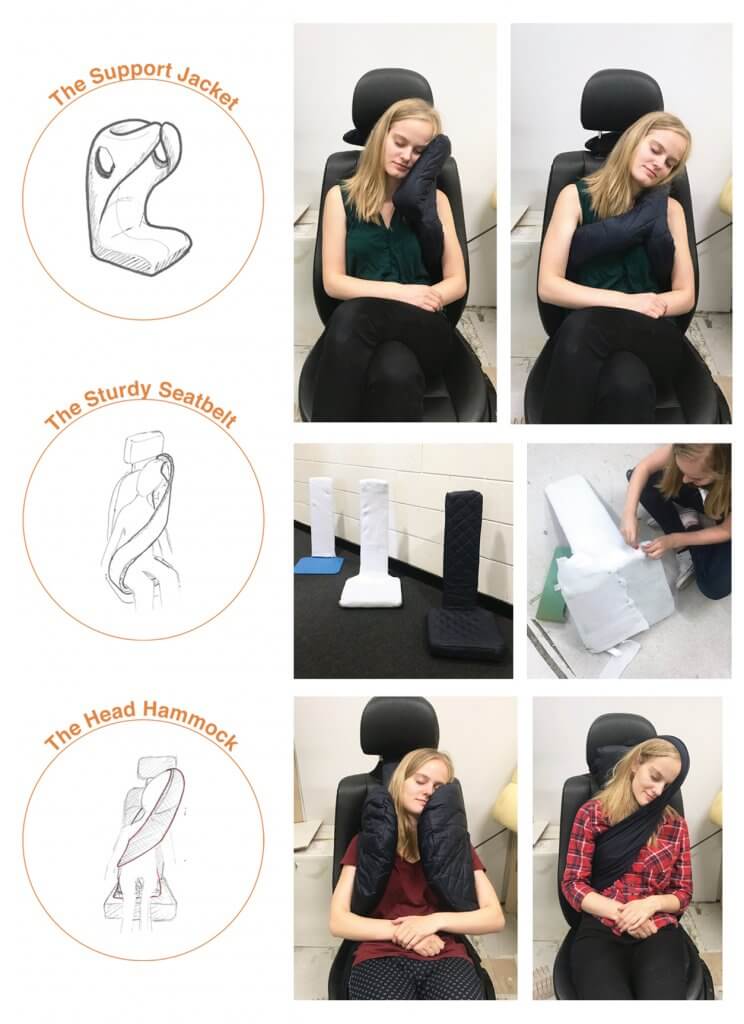 Findings
As in many of our projects at Lab4Living, close collaboration with key stakeholders proved important in challenging the unrealised assumptions of the research team and ensuring the project was meeting the real-life needs of children and families. Issues such as ensuring a good quality sleep, addressing potential stigma, the need for adaptability and for full body support were raised early and clearly, to be addressed in subsequent design work.
Enthusiasm from the families for the physical prototypes was high. The most popular prototypes were those that were easier to put on/take off, and that provided lumbar as well as head/neck support.
Impact
Further details about this project are available online at:
Wheeler, G., H. Elphick, J. Langley, N. Mills, U. Ankeny and N. Raszyk (2020). "Co-designing a neck stabilising aid for children with narcolepsy." In Christer, K., C. Craig and P. Chamberlain, eds. 2020. Vol. 4 (729-739) of Proceedings of the 6th International Conference on Design4Health, Amsterdam, 2020. Sheffield: Sheffield Hallam University.
References
Plazzi G., H.M. Clawges, and J.A. 2018. "Owens. Clinical Characteristics and Burden of Illness in Pediatric Patients with Narcolepsy." Paediatric Neurology Aug (85): 21-32. doi: 10.1016/j.pediatrneurol.2018.06.008. Epub 2018 Jun 30.