In 2020, Lab4Living took over new premises in Sheffield's Fitzalan Square. The White Building dates back to 1908 and its design has several connections to Sheffield Hallam University's Art and Design history. Lab4Living is proud to continue those links into the 21st century.
As Lab4Living moves to the White Building, we explore our University's deep roots in this historic building in Sheffield's city centre. The White Building was part of a remodelling of Fitzalan Square that included, in 1910, a new Head Post Office building (now the home of Art and Design at Sheffield Hallam University). The building's owner and architects had links with Sheffield School of Art. Through their design and craftsmanship, the building celebrated Sheffield's industrial might.
The White Building was designed by architects Flockton and Gibbs and the frontage features prominent panels showing typical Sheffield trades, including cutlery making and silversmithing.
White Building architect and owner Edward Mitchel Gibbs (1847-1935) was a pupil at the Sheffield School of Art, attending classes from 1865 – 1870. Flockton and Gibbs commissioned Sheffield based architectural sculptors Tory & Sons to design and produce the relief friezes which adorn the facade of the White Building. Frank Tory (1848-1938), who founded the firm of Tory & Sons, taught modelling and wood carving at the School of Art between 1883 and 1891.

Frank Tory's sons, twin brothers Albert Herbert Tory (1881-1971) and William Frank Tory (1881-1968) were responsible for modelling the low relief friezes. Continuing the link with what is now Sheffield Hallam University, Albert and William had also been students at the School of Art and attended classes between 1895 and 1903. The brothers modelled the figures which were sent away to be modelled in white faience. 

The white faience facing was a 'self-cleaning' surface which would have made the building stand out against the soot covered buildings in the city. The monograms of the artists can be seen on the each of the figures they sculpted.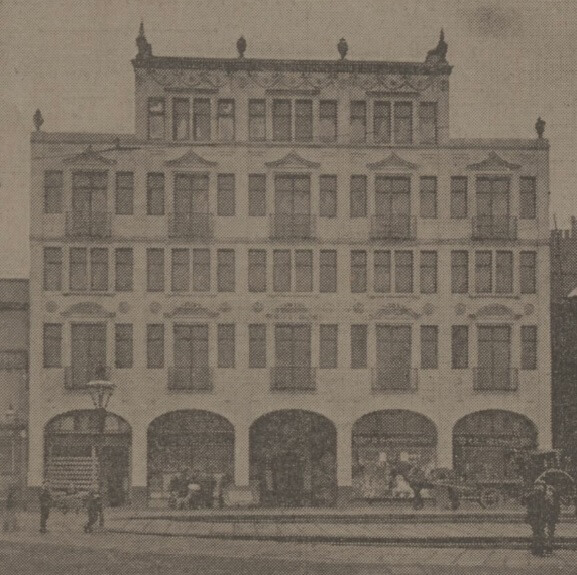 At first, building seems to have initially been used as office and retail space. The only people living in the building at the time of the 1911 census were the caretaker / lift attendant and his family.
Over 100 years later, the building's ground floor spaces are used by a new generation of artists, designers and makers in Lab4Living. We were destined to take over these premises in the heart of Sheffield. In 2019, Sheffield Hallam University led the redevelopment of the ground floor and basement of this site to create a start-of-the-art living lab. In the White Building premises, we are able to work, prototype, hold workshops and exhibitions, and carry out community engagement.
See inside the White Building in 2021 on our virtual tour: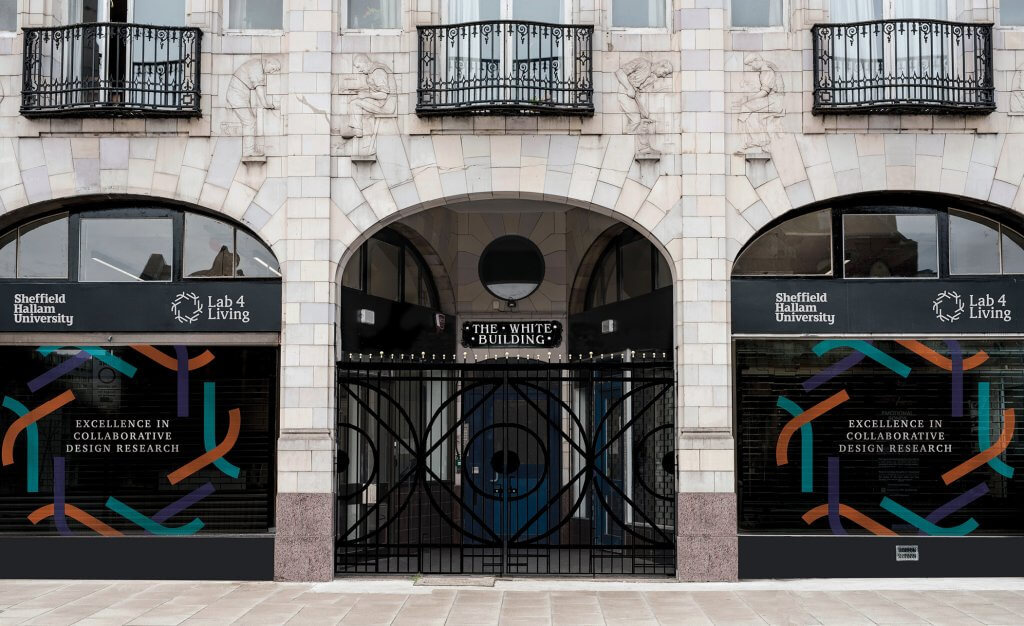 Acknowledgements: with thanks to Simon Quinn, Librarian, Sheffield Hallam University.