21 June 2023
A collar to support patients with Motor Neuron Disease, developed by researchers at Lab4Living, patients and clinicians, has won an award at the inaugural global 'Made with Patients' Awards.
The supportive neck collar is designed with flexibility to allow functional head movement for people with Motor Neuron Disease (MND). This revolutionary product was designed as part of a collaborative project between Sheffield Hallam University's Lab4Living, the University of Sheffield and NIHR Devices for Dignity (D4D) MedTech Co-operative (hosted by Sheffield Teaching Hospitals).
The 'Made with Patients' Awards, presented at a ceremony last week in Milan, celebrate those who are driving patient engagement forward in medicines development, medtech development, and digital health. HeadUp, one of 44 worldwide nominations, has won the Jury Special Award category.
We are honoured and delighted to accept this Made for Patients award on behalf of the project team. We are a large team including, most importantly of all, people with MND and other long term neurological conditions and their families. Their generosity of time and ideas right from the start was crucial to the success of the project and it means a great deal.

Lise Sproson Patient and Public Involvement NIHR D4D.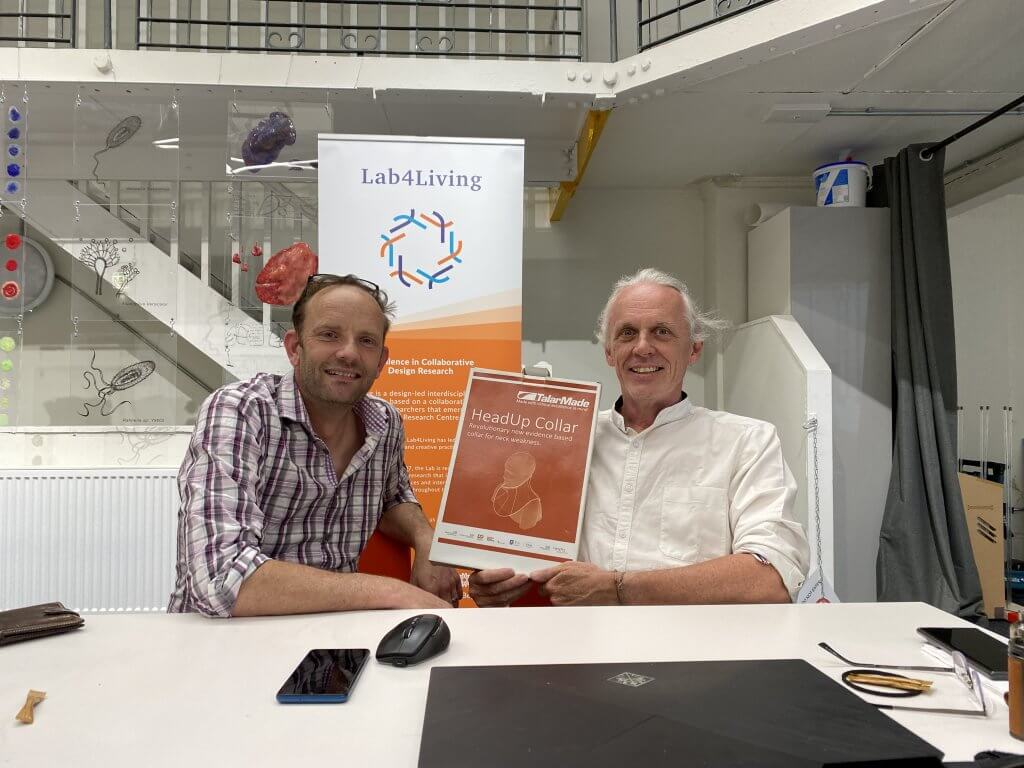 The Made with Patients Awards, hosted by the Patient Focused Medicines Development (PFMD), celebrate those who are driving patient engagement forward in the development of medicines, medical technology, and digital health. This is the first ever global award celebrating excellence in patient engagement and 140 submissions were received. In addition to the three awarded initiative categories, the Patient Focused Medicines Development jury chose "a remarkable initiative that surpasses expectations. The Jury Special Award recognizes an initiative that embodies the essence of patient engagement, from co-creation with patients to improving the quality of life for those with Motor Neuron Disease."
To receive this award is huge recognition of the contribution that patients and their families made to this work throughout, from identifying the need, co-designing the medical device, evaluating, to marketing, commercialisation, and global distribution.

Joe Langley, Design Research Fellow, Lab4Living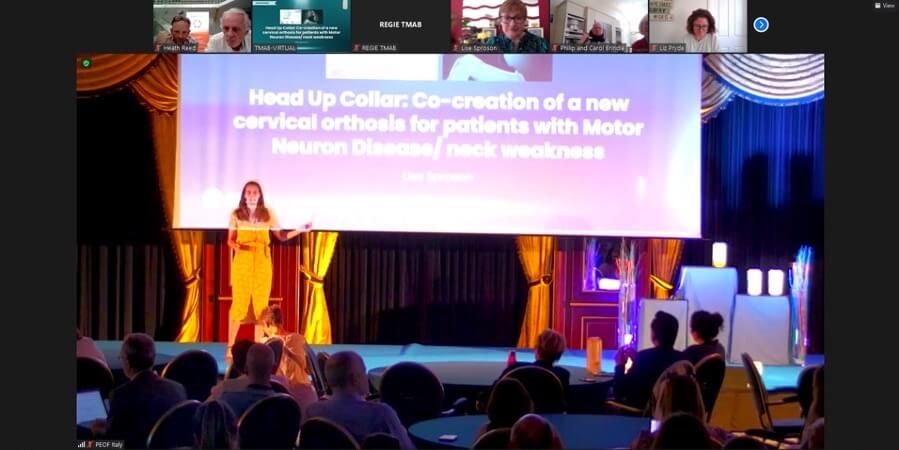 Working with people with MND and their families
An interdisciplinary collaboration of many different organisations, disciplines, and experts developed the HeadUp project. Our patient expertise was at the heart of our collaboration from start to finish.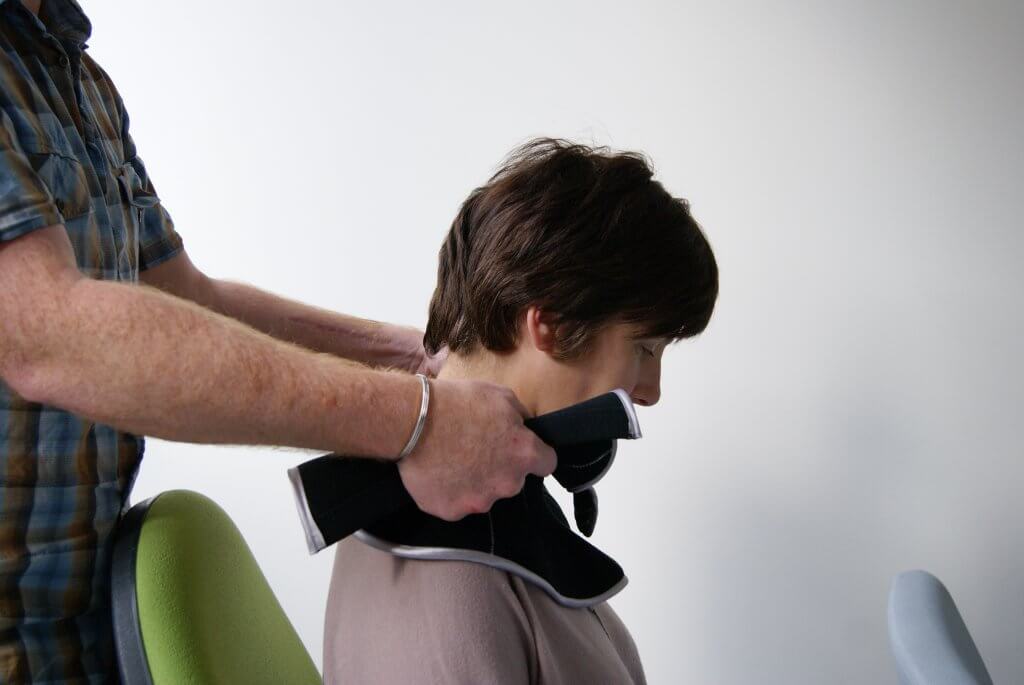 While we wait for a cure for MND we must try to maximise quality of life. Our team works with people living with MND and their carers to identify the key day to day issues. Patients told us that the head support collars available were of no use and asked, was there anything better? There wasn't and so we set out to develop something that worked. We had an amazing team and the ideas really did come from those with lived experience. Putting them in the same room as engineers and designers made their ideas come to life. "

Prof Chris McDermott Dep. Dir. NIHR Sheffield BRC, Head of Dept Neuroscience, Sheffield Institute for Translational Neuroscience, University of Sheffield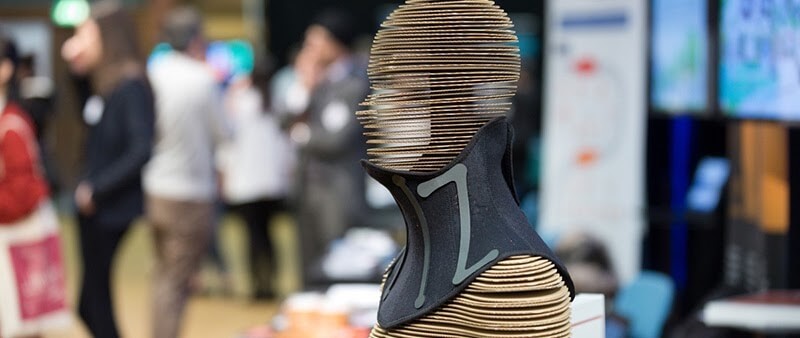 Design researchers Heath Reed, Joe Langley and Andy Stanton from Lab4Living led on all the design activities. The Lab4Living team worked with patients with MND and their families in a series of iterative codesign sessions, during which concepts were developed, prototyped and tested.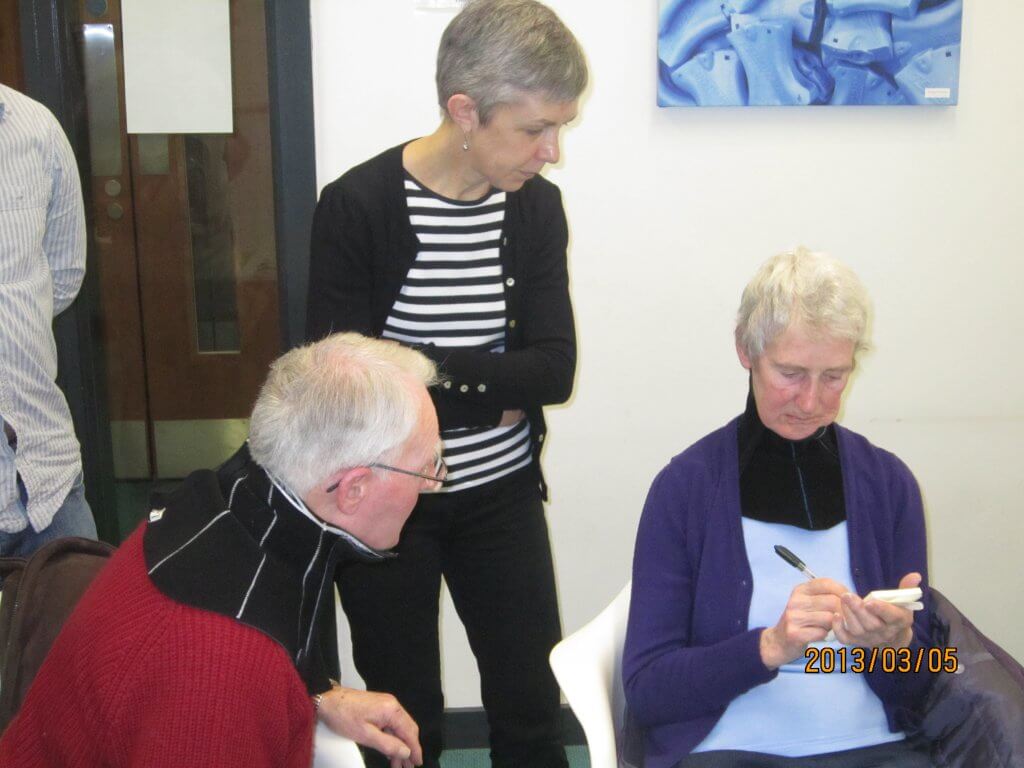 Working over a long period with the same group of patients was very rewarding for me as a designer. I could see how their engagement and interest increased as the sessions progressed because they knew their input was being listened to and incorporated directly into the designs.

Andy Stanton, Design Researcher, Lab4Living
Andy was particularly inspired by the altruism of the patient participants, who were living with degenerative disease and were willing to give up hours of their time to the co-design process.
We had some frank conversations during the codesign sessions. The patients knew that they may not personally see the benefits of the final product, if it came to market. But they knew their efforts would help future generations and that was important to them.

Andy Stanton, Design Researcher, Lab4Living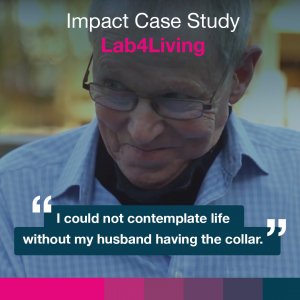 Focussing on 'Day to day' priorities
Joe Langley believes an important aspect of working with patients is focusing on their priorities:
Improving 'day-to-day' mobility was identified as the need, and the solution here was relatively low tech. From a tech investment perspective, this was unlikely to make big profits, potentially making it a less attractive project. So the NIHR took a risk – but the work resulted in such a dramatic impact on quality of life. Sometimes the right thing to do is not about making huge technological advances. Truly patient driven issues and solutions are often 'simple' things.

Dr Joe Langley, Research Fellow, Lab4Living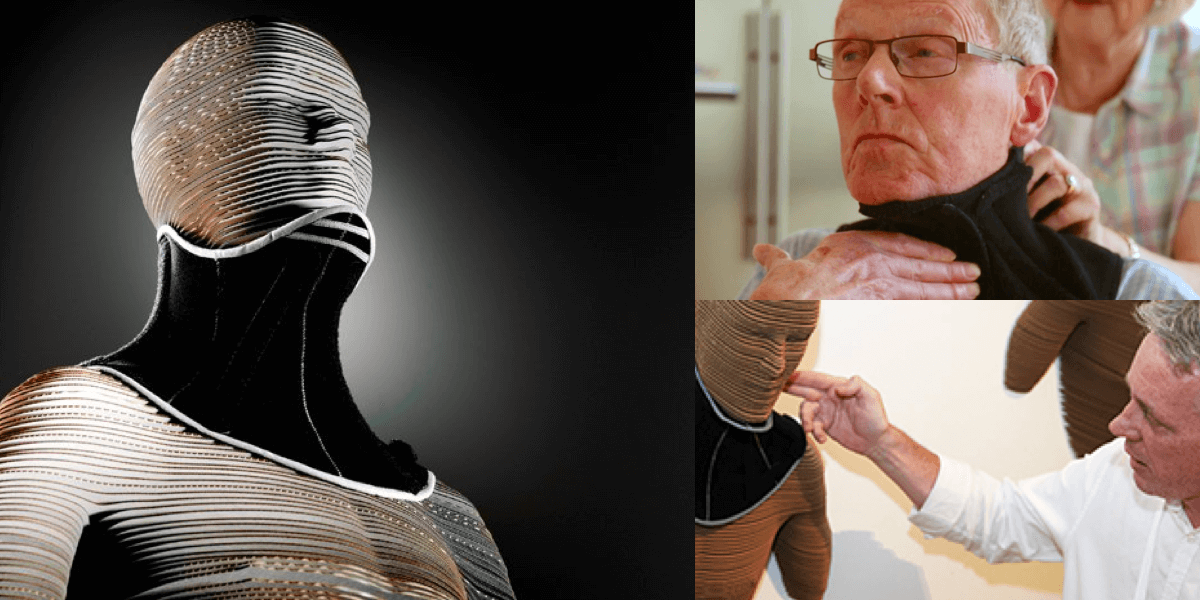 Developing and launching a medical product
The process of identifying the medical need and developing HeadUp has taken over 10 years. The collar, produced by healthcare company, Talarmade, has been available through the NHS and healthcare services around the world since 2018.
"It is particularly rewarding for the project to still be recognised as an exemplar of working with patients. It is a testament to the genuine and authentic role patients played throughout the project."

Joe Langley, Design Research Fellow, Lab4Living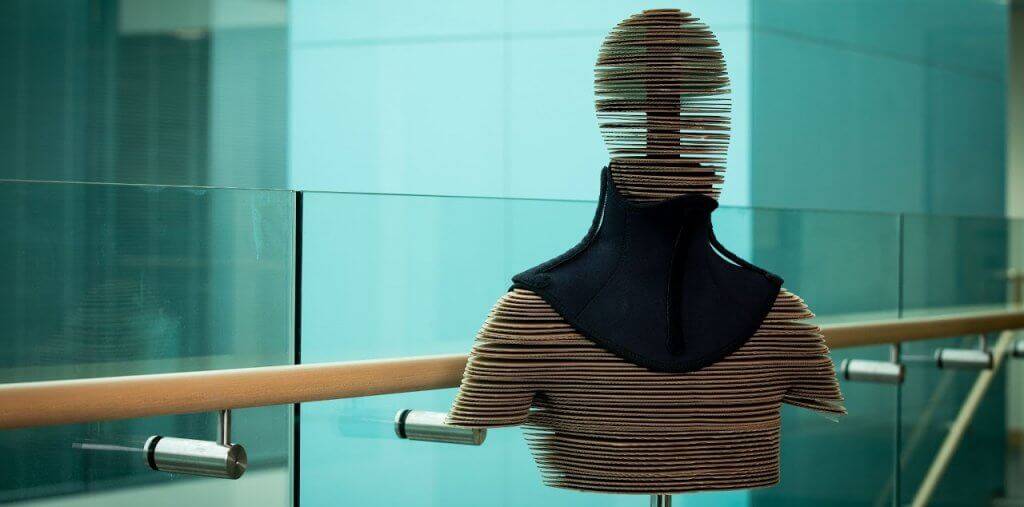 The multidisciplinary team included: Sheffield Motor Neurone Disorders Research Advisory Group; NIHR Sheffield Devices for Dignity MedTech Co-operative; Lab4Living, Sheffield Hallam University and Sheffield Teaching Hospitals NHS Foundation Trust, and Sheffield Institute for Translational Neuroscience, University of Sheffield.
Additional links