This project aimed to co-create a psychoeducational resource to help primary aged young people with Attention Deficit Hyperactivity Disorder (ADHD) learn about and manage their condition. Lab4Living's role in this project was to lead in the co-design work and graphic design of the resource: the 'ADHD Hero Activity Booklet.'
Partners: The University of Sheffield, The University of Derby, NIHR Children and Young People MedTech Co-operative, Sheffield Hallam University
Project team: Dr Lauren Powell (University of Sheffield), Dr Jack Parker (University of Derby), Dr Gemma Wheeler (NIHR CYP MedTech) Dr Joe Langley and Chris Redford (Sheffield Hallam University)
Background
ADHD is estimated to affect around 3.4% of school aged children and is characterised by three core symptoms: inappropriate levels of inattention, hyperactivity and impulsivity. Young people with ADHD are also more likely to be from socially deprived backgrounds and have ADHD related difficulties, such as academic underachievement, poor social relationships and communication skills. They can often experience low levels of self-esteem, which can in turn lead to symptoms of severe depression and lower quality of life. These difficulties can often persist into adulthood (NICE 2018).
As people in the UK with long-term conditions spend approximately 1% of their time with a clinician, resources to support individuals between clinical visits can play an important role. Psychoeducation interventions (defined as something that teaches an individual about their condition by providing support, information and management skills) are recognised as being potentially beneficial for this group and recommended by UK clinical guidelines, but there is little age-appropriate material currently available.
Children with ADHD, and their families, validated the unmet need of developmentally appropriate health education resources for children with ADHD through previous work led by The University of Sheffield. Lab4Living was then approached to facilitate the ongoing, meaningful engagement of families throughout design, development and early evaluation of such a resource.
Methods
Initial desktop research, literature review and conversations with clinicians helped to identify the types of topics that children with ADHD may wish to learn about in relation to their ADHD. Concurrently, inspiration was sought from children's magazines and websites to explore the modes of interaction that children with ADHD may prefer. From this, the first (face-to-face) co-design workshop with children with ADHD, and their parents, focussed on defining the scope of the content and format of the resource. We learned that, as well as facilitating the child's learning about their condition, the resource may also provide a tool to teach friends and teachers about the child's needs AND superpowers related to their ADHD.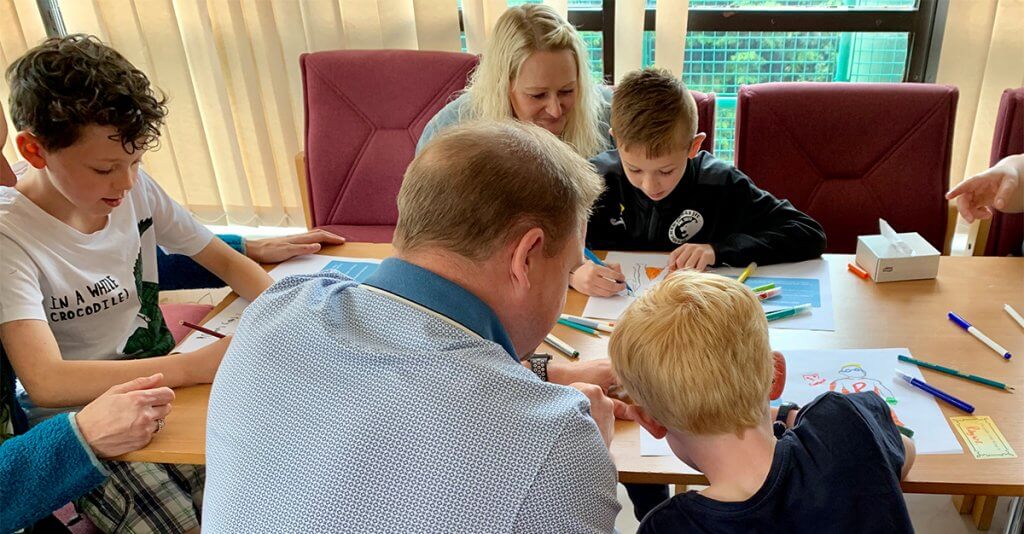 Drawing on the notion of 'superpowers,' and popularity of interactive, magazine-style activities with the families, an initial prototype of the 'ADHD Hero Activity Booklet' was created. This was circulated to specialist clinicians to ensure the educational content was valid and developmentally appropriate.
COVID Adaptation
Whilst the team had originally planned a second series of face-to-face workshops, our methods needed to be adapted in response to the Covid-19 pandemic (see Co-Design During COVID). As such, families who previously participated in the co-design workshops were sent a copy of the prototype booklet in the post. They were also invited to an online video call workshop to trial and discuss it together. We invited individual families to separate video calls, in order to tailor the workshop to the children's individual needs in the online format.
During the workshops, a design researcher led the conversation, with a clinical researcher taking written notes and a graphic designer taking live sketch notes. The latter were used to periodically re-engage children – seeing their verbal contributions visualised has several benefits. It showed the children the value given to their input, and facilitated immediate participant validation/correction. It also acted as an immediate reward and encouraged the children to continue participating.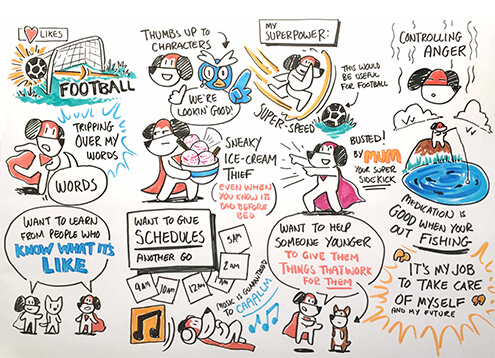 Summaries of the workshops were afterwards sent to families in text and visual formats for corroboration or correction. The workshops led to some small but important changes to the activity book, demonstrating the importance of sustained, meaningful involvement of families in co-design for health.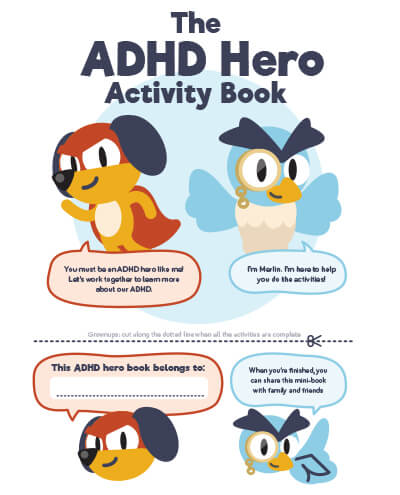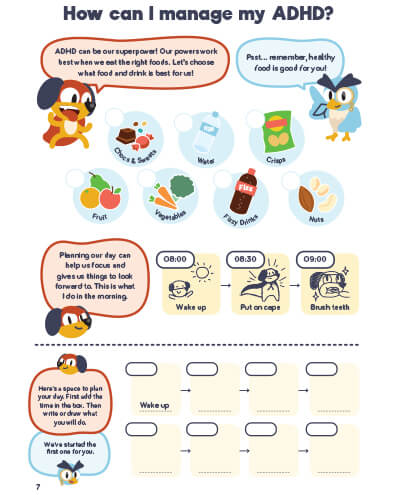 Impact and next steps
As of March 2021, the booklet has now been adopted by several schools in Wakefield, one charity in Sheffield, and eight NHS Trusts, with further interest nationally. It is available for download here: https://tinyurl.com/bjd669dj .
An evaluation of the booklet has recently been published in Design For Health (see Resources below). The project has now been joined by NIHR Children and Young People MedTech Co-operative. Next steps include exploring opportunities to develop a web-based or app-based version of the booklet, as well as exploring the applicability of the approach to other contexts and conditions such as Autism.
Resources
Lauren Powell, Gemma Wheeler, Chris Redford & Jack Parker (2021) The suitability and acceptability of a co-designed prototype psychoeducational activity book for seven- to eleven-year-olds with ADHD, Design for Health, DOI: 10.1080/24735132.2021.1928380