This work is an exploration into how to engage participants meaningfully through remote co-design during the COVID-19 pandemic.
Funded by: Research England
Partners: Sheffield Hallam University, University of South Australia, University of York
Project team: Joe Langley, Niki Wallace, Aaron Davies, Ian Gwilt, Sarah Knowles, Rebecca Partridge, Gemma Wheeler, Ursula Ankeny
Introduction
Co-design as a practice enables people to come together on an equal footing to shape a product or service that they will ultimately be affected by, with the principles of co-design ensuring their agency and voice are retained and empowered throughout the process. Prior to COVID-19, our preferred method of engagement was face-to-face workshops, as we found this type of setting enabled strong engagement, equalized power dynamics during those events and sustained continued involvement across a series of events.
During COVID-19, this approach was not possible, prompting us to explore a variety of other methods, both digital and analogue, to deliver more remote versions of co-design.
Initially, when 'in person' activities such as workshops ceased to be possible, there was a drive to try and replicate a face-to-face workshop through a digital platform such as Zoom, often augmented by other digital collaboration platforms such as MIRO. But these early experiences highlighted some questions and problems such as:
Who had access?
Who had skills and capabilities?
Who was excluded?
How are relationships built and sustained through digital media?
How can we maintain engagement?
How can we stimulate creative sharing and building on each other's ideas?
How can we ensure equal power dynamics between different participants?
How can we get past digital fatigue?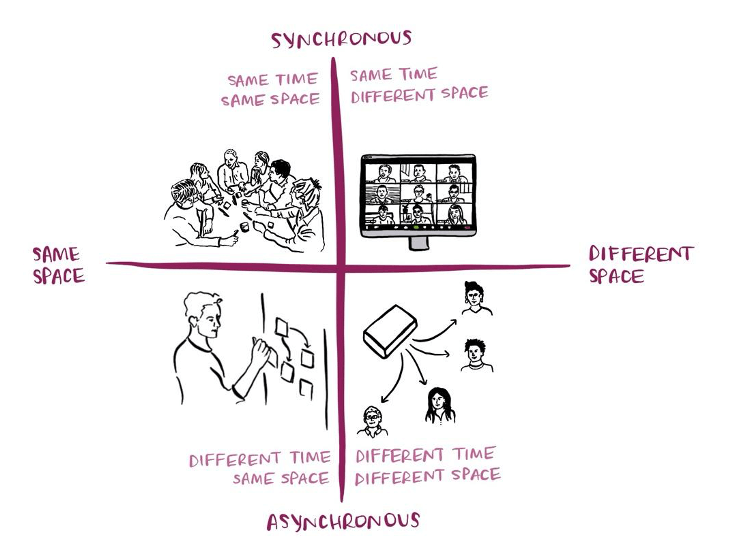 This began a series of experiments looking at various ways of supporting people to engage in co-design. Co-design is a continuous process. Yet our pre-COVID practice had been to constrain the input from co-design partners to these time-locked windows of opportunity. Our early COVID efforts replicated this through digital media. An important feature of our efforts to challenge this began to explore opening up options for more sustained, even continuous input throughout a co-design process, challenging notions of where, when and how people can contribute to these processes. This is a legacy we hope to continue when we are able to safely meet face-to-face.
The project links below show our response to these issues on a variety of different projects, undertaken by Lab4Living and our collaborators at UniSA.
Project Collection
Lab4Living
Project
Tools Used
Link
Active Withernesea
Supporting the residents of Withernsea to be more active whatever their physical ability using existing/natural resources in the neighbourhood.
'global' mail drop to every household in defined area
Interactive Zines
Social media
Radio
Email
https://sarahsmizz.cargo.site/Active-Withernsea
ADHD Activity Book
resource (in the form of a children's magazine) with and for children with ADHD.
Activity books
Online 1-2-1 video workshops
https://lab4living.org.uk/projects/adhd-hero-activity-booklet/
(Re)building Stories of Harm in the NHS
Exploring how patients and families can be meaningfully involved (beyond their role as a 'witness' or source of evidence) in Serious Incident Investigations and developing resources to support their involvement in future investigations.
Narrative reconstruction kits
Activity books
Socially distant face-to-face workshops
Screen-to-screen workshops
Ongoing Miro collaboration board
https://lab4living.org.uk/projects/serious-investigations/
Home Based Care Pathway
Developing resources to help people with Parkinson's self- manage more effectively and confidently. These resources support a new pathway using remote monitoring technology to assist in condition management.
Virtual face-to-face evaluation workshop
(Activity booklet)
https://lab4living.org.uk/projects/plymouth-home-based-care-pathway/
UTI Testing in Primary Care
Developing a device to quickly diagnose Urinary Tract Infections in primary care to ensure speedy treatment where necessary and reduce inappropriate antibiotic use. Specific work involves understanding how this device will be used in primary care settings and the related requirements from stakeholder perspectives.
Virtual face-to-face co-design, storyboarding etc
Activity booklet
https://lab4living.org.uk/projects/uti-testing-in-primary-care/
JIA Toolbox
Developing therapeutic interventions to help children with arthritis lead more active and independent lives. Exploring the needs from different stakeholder perspectives and combining these to create a toolbox of interventions.
Asynchronous co-design space
https://lab4living.org.uk/projects/juvenile-idiopathic-arthritis-toolbox-to-encourage-self-management/
FDI Whole Mouth Health
Investigating the perceptions of 'whole of mouth health' with international stakeholders and participant groups from Australia, Chile, Nigeria, Switzerland and the United Kingdom.
Workbooks, socially distanced face-to-face
https://lab4living.org.uk/projects/whole-mouth-health/
University of South Australia (UniSA)
Project
Tools Used
Link
Downsizing:
Exploring the experience of people aged 65+ moving from a suburban home to an inner-city apartment.
Series of interactive workbooks
https://www.aarondavis.com.au/ideas/downsizing
Food Futures:
Using a gamified co-research process to discover the food system to help community members to see the system, build their adaptive capacity and explore what the future of food in their region might be.
Workshop in a box (pass-the-parcel model)
Virtual face-to-face games
Miro
Google docs
https://netzerolab.org/food-futures/
Microsolidarity:
Using the community building and communicative practices of Microsolidarity to host empathy and capacity building games.
Virtual face-to-face workshops
Synchronous and asynchronous participation via Google Slides
Liberating Structures
Reflective Doodling:
An introduction to the reflective doodling methodology for designers working in complex problem spaces.
Virtual face-to-face
Drawing tools (pen/paper/tablet/stylus)
https://dl.designresearchsociety.org/drs-conference-papers/drs2020/researchpapers/41/
Climate space:
An 'open space' event exploring climate action in the midst of a pandemic.
Virtual face-to-face
Online questions summary tool
Liberating Structures
https://www.climatespace.net
Whole Mouth Health
Investigating the perceptions of 'whole of mouth health' with international stakeholders and participant groups. (FDI)
Workbooks
Socially distanced face-to-face
NOVELL Redesign:
Engaging nationally with stroke survivors, neuroscience researchers, rehabilitation professionals, designers and health administrators to rethink the design of in-patient rehabilitation environments

Virtual face-to-face
Workshops
Asynchronous and Synchronous participation
Miro
Mentimeter
Card sorting, storyboarding
www.novellredesign.com
CSIRO:
Engaging with people in regional and remote communities as well as urban communities who had been recently diagnosed with Pre-Diabetes or Type 2 Diabetes to co-design interventions to manage and/or reverse the course of Type 2 Diabetes

Virtual face-to-face
Workshops
Co-analysis activities
Miro
Mentimeter
Outputs
We have published some of our emergent thinking as we explored different ways of considering the ways that people are enabled to engage in co-design and specifically in socially distant co-design – and the impact this has on them, us and the design. Further information on our use of remote co-design during COVID-19 is how through the following publications:
Davis, A, Wallace, N, Langley, J & Gwilt, I 2021, 'Low-Contact Do-Design: Considering more flexible spatiotemporal models for the co-design workshop', Strategic Design Research Journal, 13(4), in press
Langley, J., Wallace, N., Davis, A., Gwilt, I., Knowles, S., Partridge, R., Wheeler, G., Ankeny, U., (2021) "COVID co-design does not *HAVE* to be digital! Why "which platform should we use?" should not be your first question" Chapter in 'COVID-19 and Co-production in Health and Social Care Research, Policy and Practice', Edited by Williams, O. et al, Policy Press, In press