Developing a rapid UTI test device for Primary Care Settings
Funded by :
National Institure for Health Research (NIHR) Invention for Innovation (I4I) Grant
Partners: North Bristol NHS trust, University of the West of England, University of Oxford, Devices4Dignity, Sheffield Teaching Hospitals NHS trust
Project team: Joe Langley, Rebecca Partridge, Ursula Ankeny, Naomi Raszyk

This project uses Co-design methods and Public and Patient Involvement & Engagement (PPIE) to develop a device and patient pathways for UTI testing in primary care. Testing for UTIs at GP surgeries can be time consuming and can result in unnecessary antibiotics being prescribed. Project partners are developing technology for a device which can be used in primary care settings to rapidly test and identify UTI bacteria and inflammation.
Background
GPs diagnose UTIs in patients based on their symptoms. Often a urine sample is sent to a laboratory to be checked for infecting bacteria and white blood cells. This current method can take up to three days. As the patient has ongoing symptoms, the GP will sometimes prescribe antibiotics before the laboratory result is back. If this result shows no infection then antibiotics could be harmful to the patient and this use of unnecessary antibiotics adds to the increasing risk of antibiotic resistance.
It is not currently possible to confirm a UTI diagnosis at the point-of-care, as testing strategies, e.g. urine dipstick tests and clinical presentation, are non-specific. In practice, clinicians frequently prescribe antibiotics without clear-cut diagnosis, risking over-prescription (if the diagnosis was wrong), or potentially the wrong antibiotic (non-sensitive bacterium).

A mounting Public Health concern has identified multi-drug resistance due to inappropriate prescribing. Worldwide, scientists are anxious about the rise in "superbugs", which may be caused by the overuse of antibiotics.
The aim of this project was to reduce the use of unnecessary antibiotics for UTIs by creating a device that can rapidly test and identify the presence of bacteria and inflammation. Lab4Living's project role is to employ user design, Co-design and PPIE engagement methods to explore pathways and develop device concepts.
Methods
Workshops
The design team began with a series of PPIE workshops involving patients with experience of UTI and healthcare professionals. The participants were recruited with help from the PPI representative (Angelo Micciche) at North Bristol NHS Trust using a recruitment flyer distributed to his PPI networks. The workshops were designed to understand what the current processes and experiences of diagnosing UTIs. The workshops used creative and blue sky design methods to consider what a rapid test device could be. They focused on current practices around UTI testing within Primary care, potential limitations and constraints for the future technology.
These workshops highlighted multiple possible pathways, or routes, for screening patients for UTI, along with potential features for the device.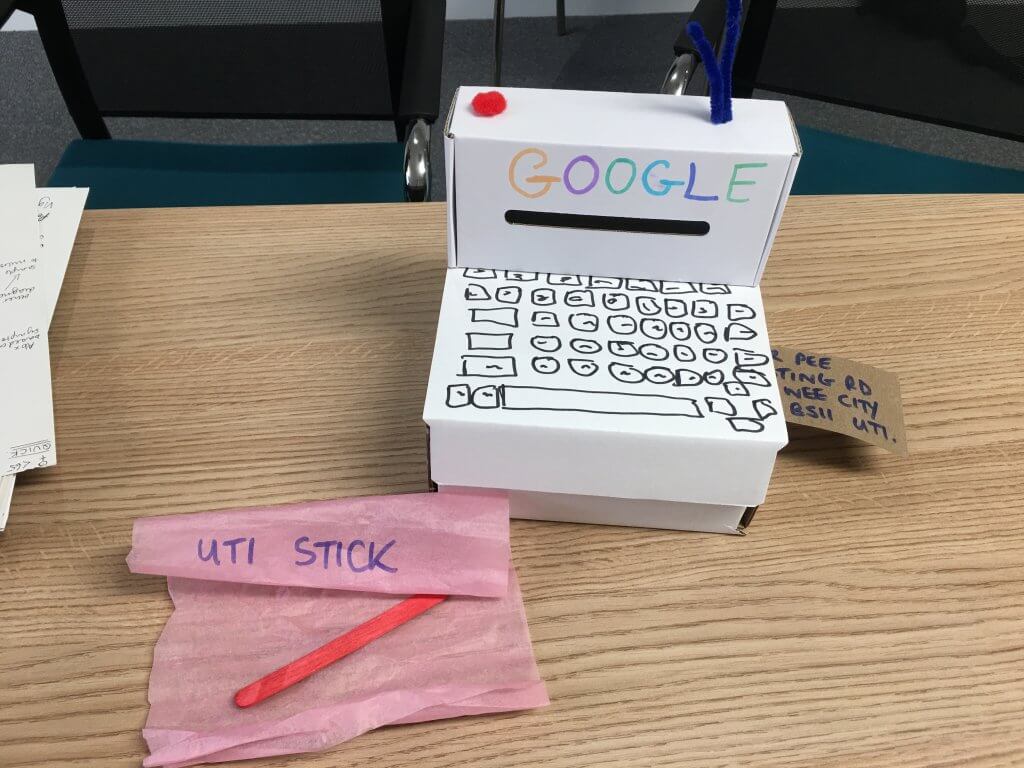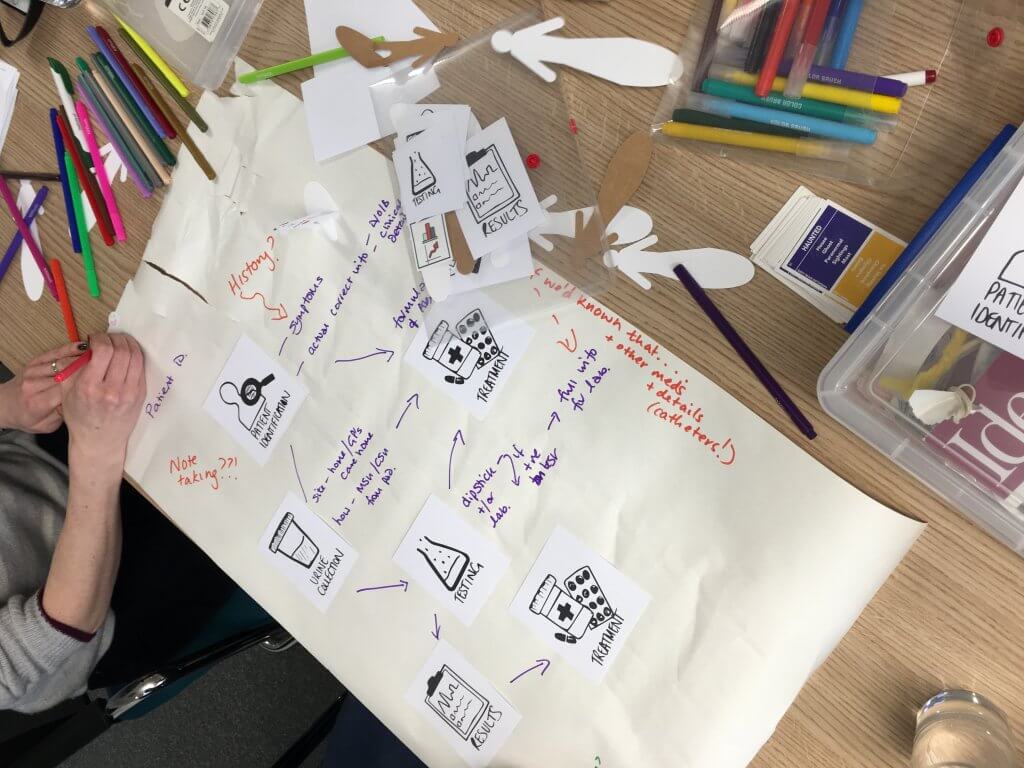 Site visits
From the workshops it became clear that in order to understand how the device and pathways might work, the team needed to visit GP practices. The GP practices were recruited using an established relevant network stemming from a clinician that the team had previously worked with in Sheffield. During the sessions, the team looked at the spaces a device might sit in, and the process that someone with an expected UTI might go through. We created card models for these site visits to translate the initial specification into more tangible expressions to help understand the deeper subtleties around form, ergonomics and interaction points. The models would also help facilitate more focused discussion. During these site visits the team was also able to understand the variety in the available physical spaces that the device would be used within. This would have both an impact on the physicality of the device and the patient pathways to use the device.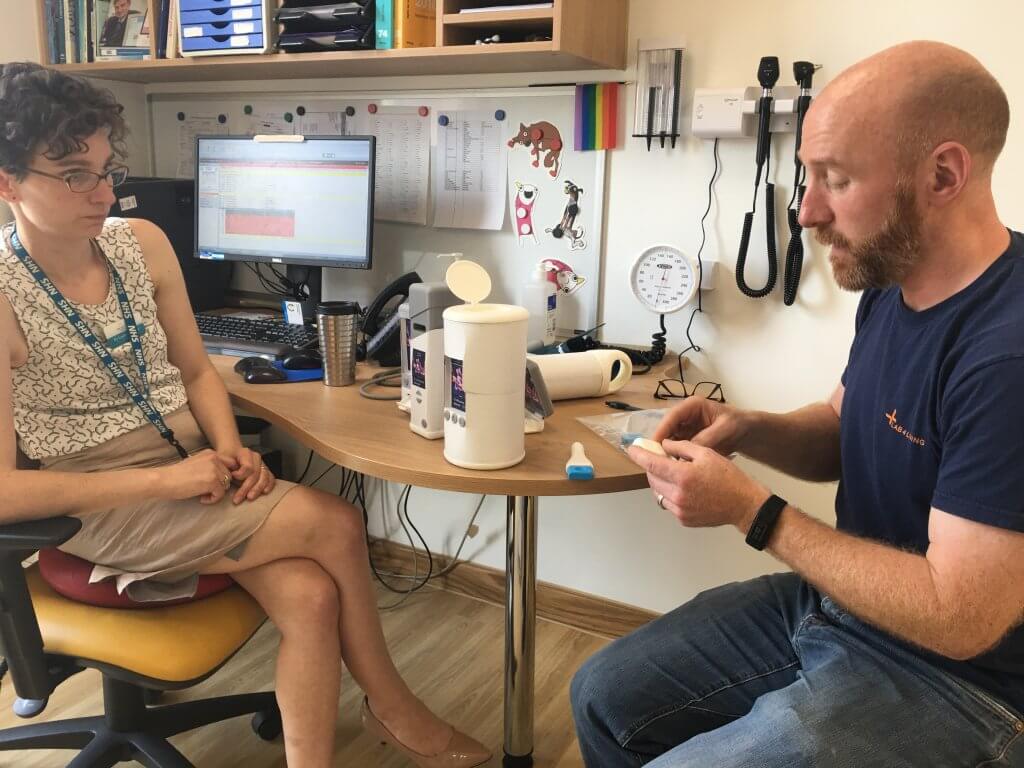 Methods: COVID Adaptation
COVID-19 heavily impacted this project as healthcare professionals became overwhelmed with the pandemic, the team were therefore unable to schedule meetings to further the project or face-to-face workshops with participants. Similarly, there was limited access to workshop facilities which resulted in a change to the final deliverables, from physical prototypes to more visual representations in the form of images and animations. In response to these issues, we shifted the methods of engagement to include virtual and posted formats (see Co-design during COVID for more information). These included:
Co-design sessions over Zoom to develop the prototype device and patient pathway to use this device.
We developed a series of illustrative cards that broke down a potential patient pathway for both Primary care and pharmacy use. Participants were then invited to order the cards to how best would fit their practice and add in additional or potential steps where required. Participants were then able to highlight areas of concern or questions that they had about the proposed route.
Posted activity booklet which included a range of activities centred around scoping out possible pathways
e.g. understanding people's preferences around timings, methods of receiving information and understanding device requirements.
Participant insights informed the final proposed pathway and device concept.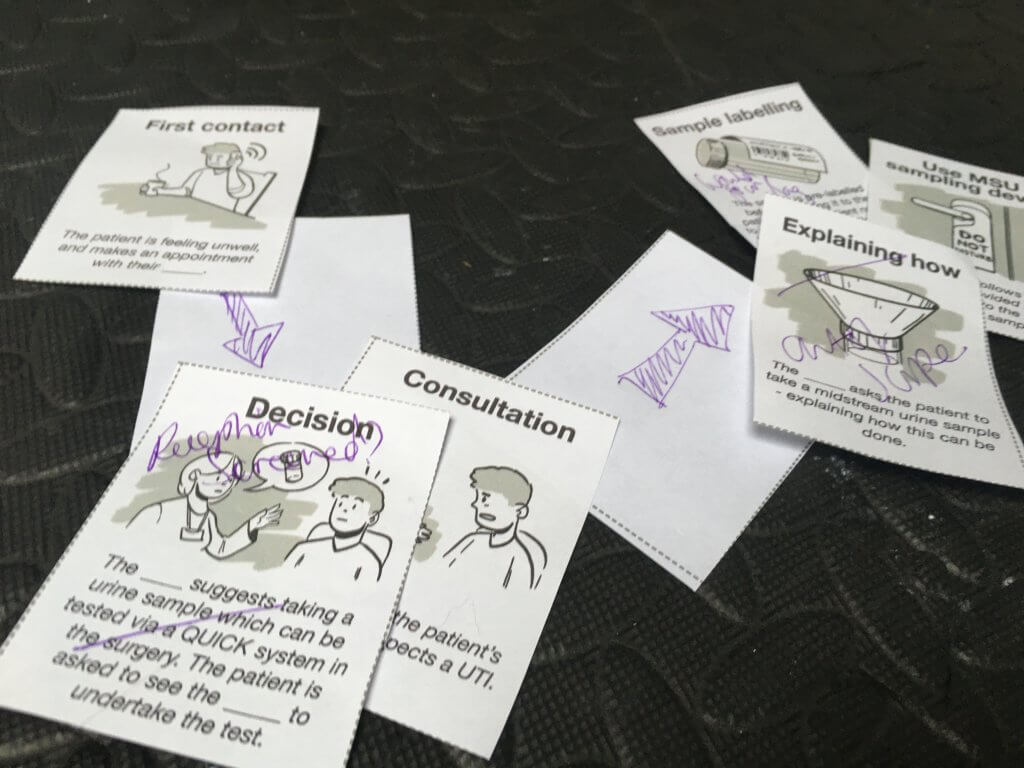 Outputs
The final design outputs for this part of the project consisted of a proposed pathway for UTI testing in primary care settings and a device concept.
Pathways
The final pathways were:
GP non complex (females aged 16-65 with no underlying conditions)
GP complex (repeat infections, underlying conditions, men and children)
Pharmacy (females 16-65, no underlying conditions or repeat infections)
To ensure that people were receiving the correct care, a strict screening/triage procedure would need to be in place in all pathways, and information would be provided to anyone who undertakes the test regardless of the outcome. This information would include information on self care, future prevention, follow up and when to seek help.
This film, created by Nifty Fox, shows the proposed pathway:
Device
The device concept was the second output. Ease of cleaning and reducing the possibility of bacteria build up were key concerns from the healthcare professionals. The concept addresses this by having no crevices and including a touch screen interface for easier cleaning. The screen is tilted at a 45° angle which enables the user to view at a comfortable angle with minimal strain. The base of the device features a small slot to enable sufficient ventilation of the technology as well as to provide a hand slot for ease of carrying. The cartridge is back-loaded, ensuring it can remain flat and easily fit into the device. The screen gives visual feedback to show the test is in progress as well as showing the final result.
The film below shows the proposed device and details around the process of use:
Impact and Next Steps
We are now at the stage of reviewing these videos with healthcare professionals, including GPs and pharmacists in order to get feedback for potential improvements. The majority of these healthcare professionals have been involved throughout the project and have therefore been able to input at various stages. To date, the feedback on both the pathways and the device has been positive.
For the pathways, the healthcare professionals were generally positive around the breaking down of routes for complex and non complex cases, the providing of information and around safety netting procedures. They highlighted that elements may differ across different pharmacies due to differing procedures. There were questions around the costs, servicing and calibration of the device.
For the device, feedback was positive overall. Healthcare professionals liked that the device looked easy to use and clean, with a straightforward interface. They queried the amount and level of information that might be shown on the screen. They felt that multiple screens, with increasing levels of detail such as the parts per million or type of bacteria, would be beneficial.
Key areas for further exploration include urine capture methods, training for device use, calibration and servicing and level of information. These issues will affect how the pathway could be adopted and how the device might be further developed.
Resources
Related news items