The aim of this research is to co-design processes and resources to guide the role of patients and families in serious incident investigations at a national and local level. It will test these processes to understand their impact upon experience, learning and the likelihood of seeking legal recourse. Our role in this research is to lead the co-design work.
Partners: University of Leeds, University of Birmingham, University of Oxford, Bradford Institute for Health Research, Bradford Teaching Hospitals NHS Foundation Trust, Bradford District Care NHS Foundation Trust, York and Leeds Partnership NHS Foundation Trust, York Teaching Hospitals NHS Foundation Trust, Healthcare Safety Investigation Branch
Project team: Joe Langley, Rebecca Partridge, Chris Redford, Paul Emmerson
Background
Reported serious incidents (severe harm or death) are estimated to be 10,000 each year in the UK, with enormous, ever increasing costs associated with litigation. We need to improve the process of learning from serious incidents in order to prevent them reoccurring, and reduce the financial burden of litigation.
The reasons claims are pursued are complex and we hope this work will help to make them clearer. One reason we do know is that patients and families often do not get a satisfactory explanation to their incident and will end up pursuing legal channels in their efforts to simply 'force' some transparency, get an explanation and some resolution.
NHS Resolution believe that involving patients and families earlier in investigations will reduce the costs of administering claims, and divert claims pursued for explanation. Other policy and regulatory organisations have proposed greater involvement of patients and families in serious incident investigations, to support better learning.
However, there is currently no UK-based evidence to guide organisations to involve patients and families meaningfully in serious incident investigations, to support learning, or reduce the likelihood of litigation.
Methods
There are three phases to this research: (1) background research, (2) co-design, and (3) testing. These phases are completed one after the other with Lab4Living leading the second phase.
The background research includes a documentary analysis, literature review and interviews. The documentary analysis will look at published policies within England to see how NHS Trusts involve patients and families in serious incident investigations. The review will explore the involvement of patients and families in serious incident investigations and decisions to litigate. Interviews with patients, families, investigators and healthcare staff will explore individual experiences. These three sources of data will be synthesised into draft program theories to support the co-design.
Co-Design work will bring together patients and families with direct experience, staff who have been investigated, staff who have investigated, staff at managerial levels, policy makers and researchers. We will facilitate three parallel co-design processes to involve patients and families in serious incident investigations, within (a) national (Healthcare Safety Investigation Branch: HSIB), (b) mental health and (c) acute care.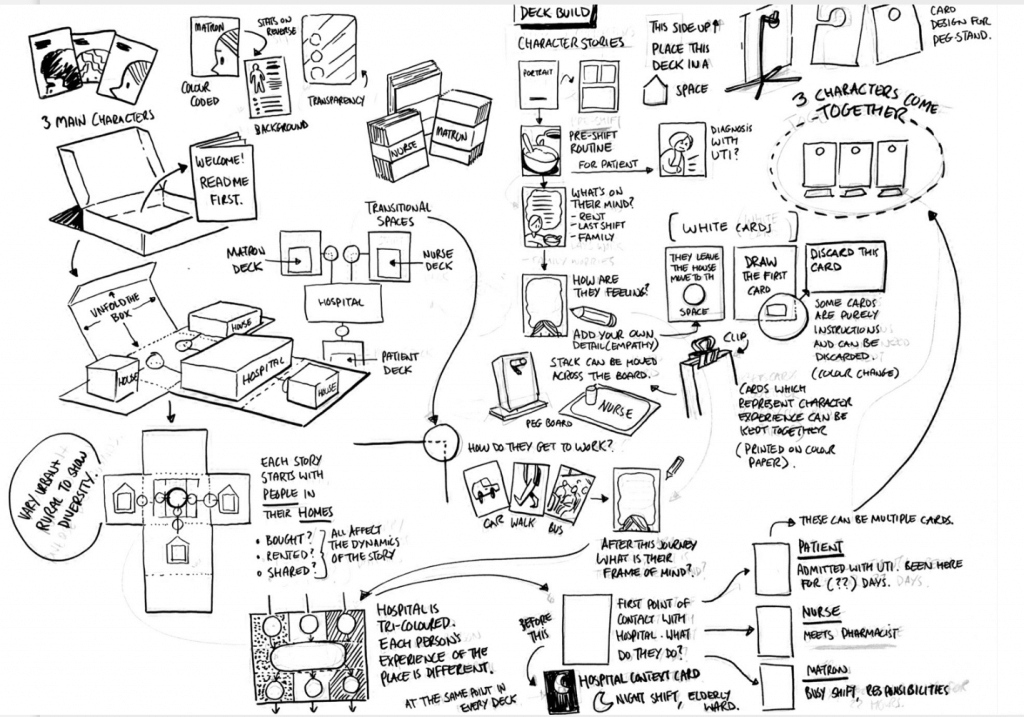 The plans for the co-design process were originally based on a series of face-to-face co-design workshop events that used a range of co-design methods and games including experience mapping, business origami, ideation games, prototype development and testing.
Finally, in the testing phase of this project, we will:
implement the prototype guidance and resources in 25 investigations across 5 organisations,
conduct a focused ethnography to assess feasibility, and
explore stakeholder experiences, impact on learning, recommendations, actions, and decisions to litigate.
COVID Adaptation
To accommodate the constraints of social distancing during the pandemic, face-to-face workshops were ruled out; the design team has been exploring other methods of engagement (see Co-design During COVID). Face-to-face workshops have been replaced by screen-to-screen workshop events. However, we appreciate the limitations that these places on some people due to digital access, time and creativity. We therefore also implemented a structure around these events to support people to 'see' and contribute to the co-design process in other ways.
A shared digital design canvas became the central repository and documentary record. This was shared with all co-design partners. We provided training where requested to enable some to use the space themselves. We shared printed versions of the canvas by post with others and invited their input through analogue forms. Alongside this, we developed a variety of co-design kits that were posted to all co-design partners. These included a 'Handshake' kit and an 'Investigate the Investigation' kit loosely based on the notion of re-building a story of an investigation from multiple perspectives.
Progress to Date
We have completed the Background research phase and are half way through the Co-design phase.
To link the two phases, it was important to give our co-design partners some insight into the background research phase. Yet we wanted to do this not just as a presentation of data or a written report. We wanted to give them a way of interrogating and understanding the research to date, so they might begin the co-design process with their own experiences and expertise, as well as having a deeper, critical understanding of the very latest research evidence.
To do this we developed a story-based kit; "Rebuilding Serious Investigations". This kit used a fictional story based on the research evidence, and translated it into a kit in which a person would re-construct the narrative of the story, yet the person had to make choices that generated different outcomes to the story. This enabled the person using the kit to deliberate on these variations and consider what this might mean about the ways in which serious incident investigations are currently conducted.