The concept of 'The Exhibition' is embedded within the culture of Art & Design and has a long history as a form of 'gathering' to prompt discourse. This research explores the role of the exhibition as a 'theatre for conversation' and its role and format as a research tool as well as a means of dissemination. The research draws on the value of 'thinking with things' as a method and central to this is the notion of exhibition as a research tool that becomes a meeting space that enables this to happen. Exhibition becomes the medium and method for data collection and creates the conduit, through which societal assumptions relating to ageing and healthcare care can be made visible, explored and challenged
Funded by :
Higher education academy

Project team:
Paul Chamberlain
Claire Craig

Building on methods developed through a transnational project engagingaging (Chamberlain & Craig), the principles of the traditional exhibition were translated into a format that was more flexible, accessible and inclusive. 'Exhibition in a box' (Chamberlain & Craig) distilled the essence of the exhibition into a suitcase, a la Duchamp that could be transported to diverse environs including the home. In doing so the home was transformed into the research arena, providing individuals with a tangible prompt to scaffold conversation.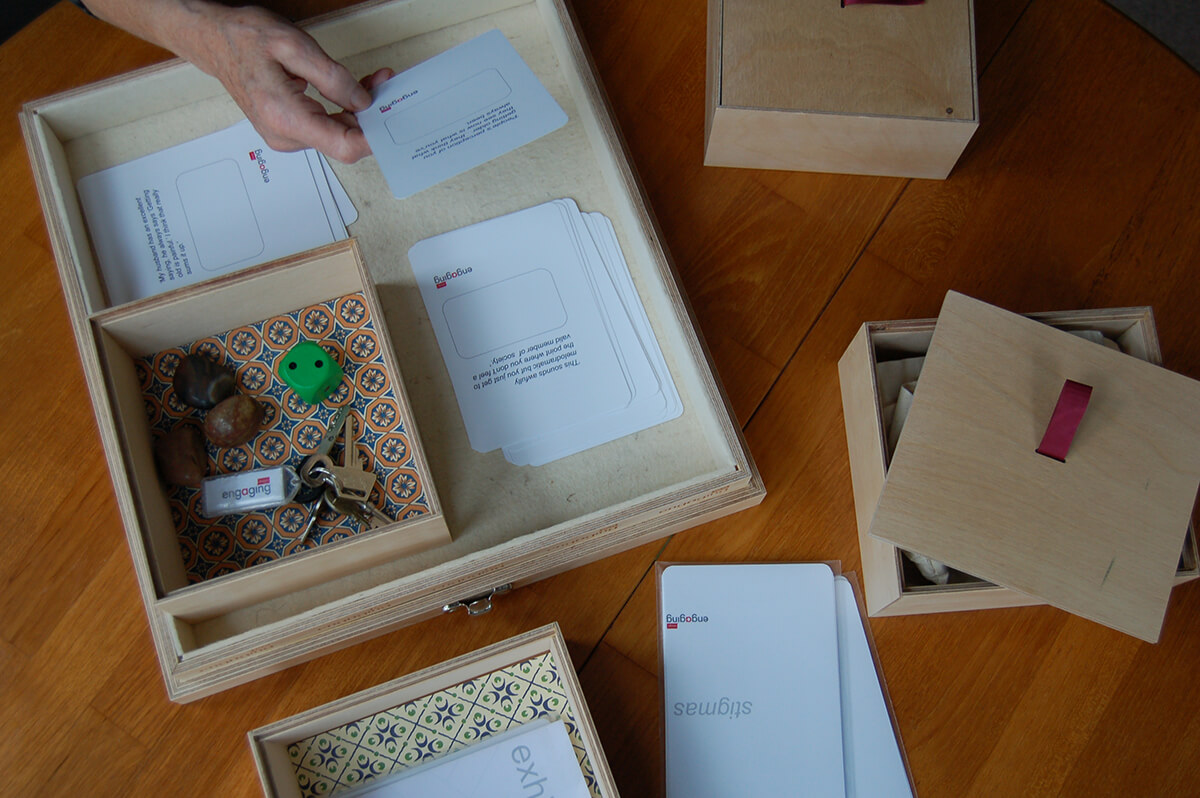 Twelve boxes were produced and distributed for use with health specialists in collaboration with older users across Europe. These boxes comprised of everyday objects, photographs and textual material defined through the user-workshops undertaken in conjunction with the earlier large-scale exhibitions in engagingaging. The objects were carefully selected to code, represent and prompt further discussion on themes that had emerged from earlier research. Key themes included mobility, hygiene, relationships, identity, communication, technology, food, art, money, recreation, safety and work and these were represented through the set of found objects that included, keys, dice, soap, pencil, watch, stone, glove, post-card, spoon. The objects could and did combine to create objective correlatives prompting and enabling participants to express emotional responses.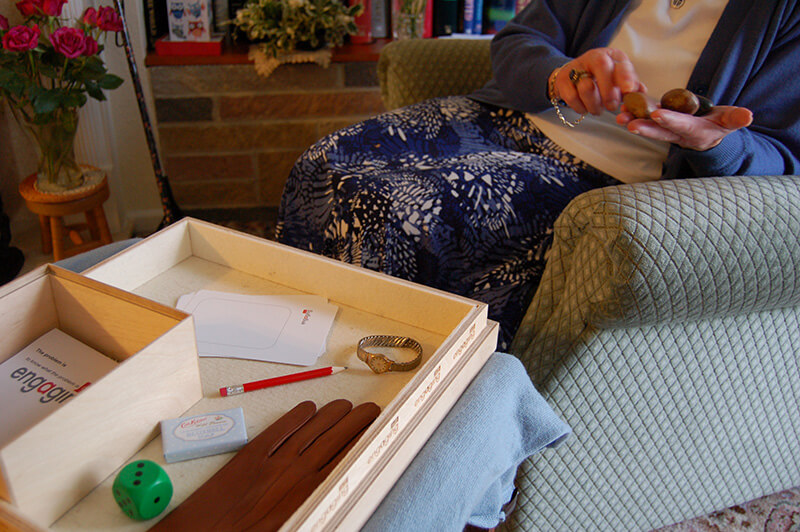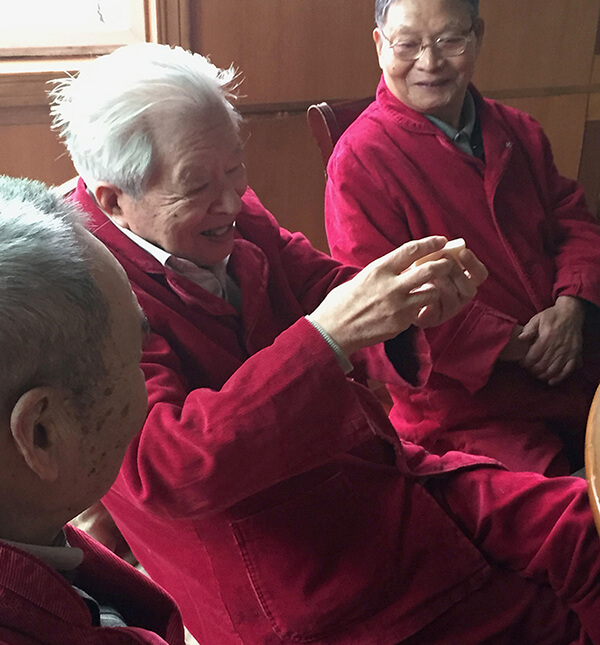 The real strength of the approach is the objects, 'things' to which individuals can relate, no matter what the culture, language or age of participant. Whilst the objects in the box remain unchanging the associations they prompt and the stories they evoke are ever changing.
Working in partnership with older people has developed a set of principles that primarily position the person as the expert and encourages choice and decision-making. Within the first phase of the research we identified and worked with four occupational therapy departments in Universities across Europe including the Hogeschool Zuyd in the Netherlands and the Zhaw Institute in Zurich. Exhibition in a box has been utilised and evaluated during the past two years as tool for occupational therapy students in support of their engagement with the community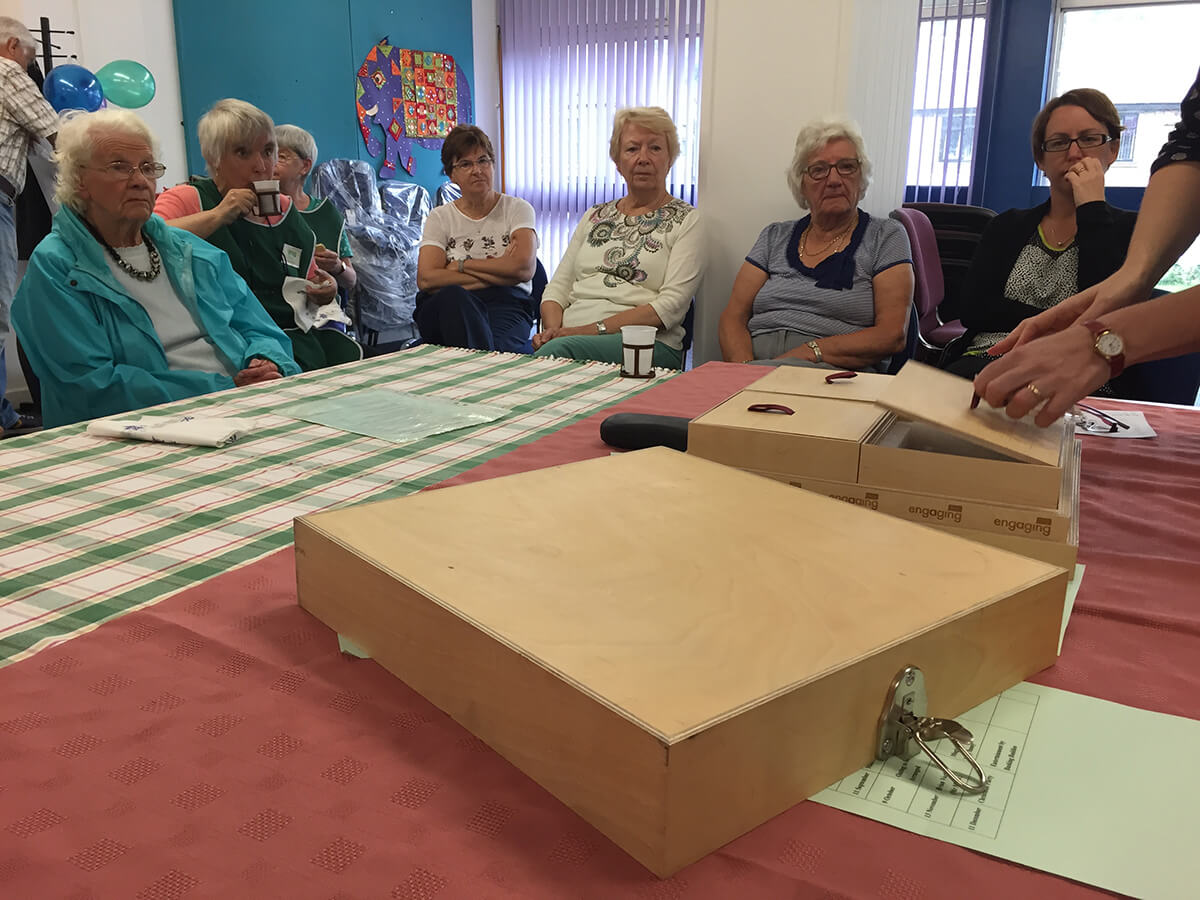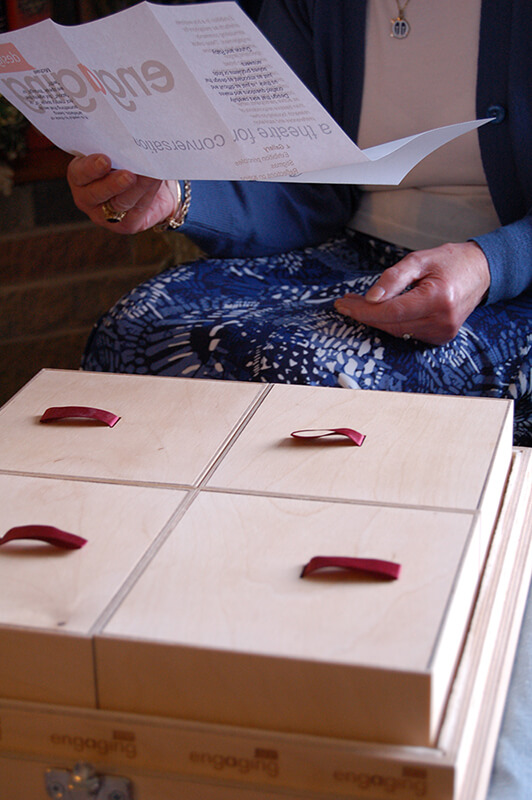 exhibition in a box has been utilised as a tool to engage various communities in co-creative activities across a broad range of topics