The project focuses on designs to assist diagnosis of Inducible Laryngeal Obstruction (ILO) in children and young people, using laryngoscopy. Our research explores effective methods for attaching the laryngoscope to the user while engaging in physical exertion. A prototype face mask and garment secures the laryngoscope to the user's head and torso, enabling precise video observation of upper airway function.
Funded by Medical Research Council CiC UK
Partners: Dr Nicki Barker, Dr Jane Kirkby, Dr Ravi Thevasagayam, Dr Kelechi Ugonna (Sheffield Children's Hospital); Dr Jen Rowson (Uni of Sheffield); Agnes Crutchard, Medipex
Project team: Andy Stanton, Heath Reed
The most effective means of diagnosing ILO is through the real-time laryngoscope monitoring and video recording of upper airway activity during aerobic exercise. This research explores effective methods for attaching a laryngoscope to the user to enable accurate video observation of vocal cord function during physical exertion. In our approach, we secure the laryngoscope to the user's torso using a specialized garment or harness. The garment holds the ECG module and the scope's camera in place and increases image stability.
Background
Inducible Laryngeal Obstruction (ILO) is a debilitating condition, caused by malfunctioning structures of the upper airway, leaving children and adults feeling out of breath, unable to exercise, or participate in normal daily activities. ILO has a significant impact on quality of life, social functioning and educational achievement. It is often misdiagnosed as asthma, leading to children being prescribed asthma medications which will not treat the problem and are potentially harmful.
The current gold standard method of diagnosing ILO using Continuous Laryngoscopy during Exercise is available for use in adults. However equipment for use with children is not suitable and not commercially available.
Due to our track record in medical prototyping projects, such as Non-Invasive Ventilation (NIV) masks and the Obstetrics Airways Trainer, the ILO team at Sheffield Children's Hospital approached LabLiving to explore design solutions that might better meet their needs.
Current diagnostic tools
Current diagnosis of ILO involves inserting a laryngoscope through the nose to monitor airways. The scope is then removed and ILO symptoms induced. This is done by the patient undertaking physical exercise (e.g. on a treadmill). Clinicians then reinsert the laryngoscope to observe the patient's upper airway function and assess the difference before and after. As well as being uncomfortable for the patient, the current approach could be more accurate.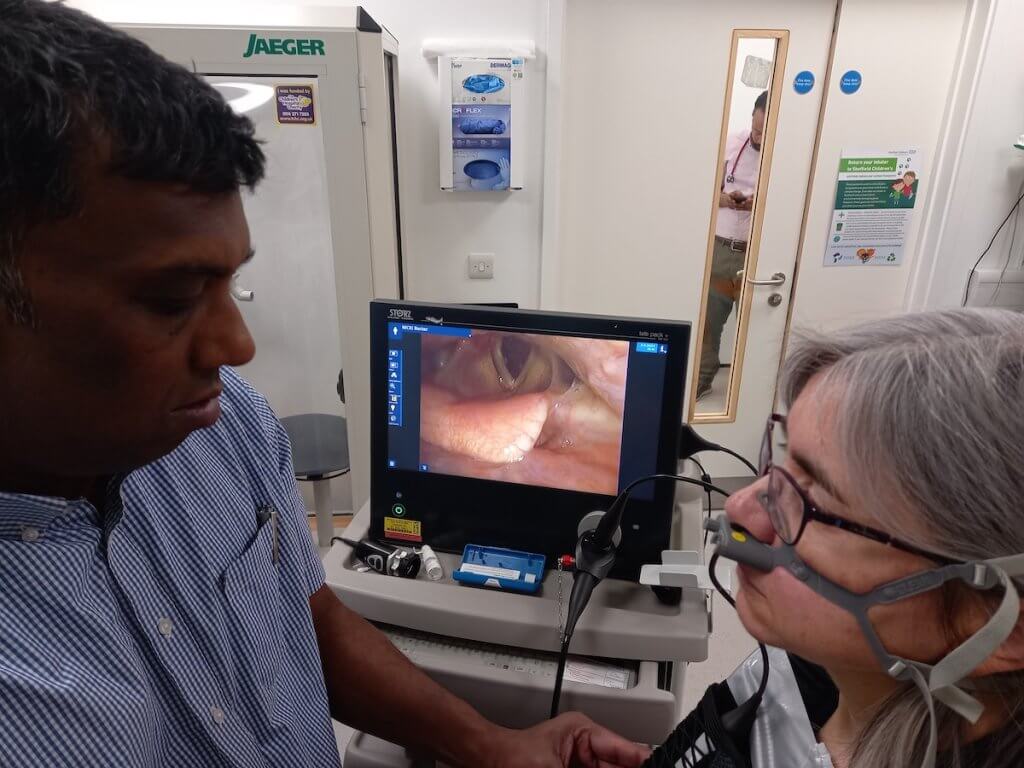 Research questions
This research asks: how can reliable and reproducible video imagery be collected from patients undergoing Continuous Laryngoscopy during Exercise (CLE)? It explores methods for attaching the laryngoscope to the child or young person, in order to assist monitoring and diagnosis of ILO. CLE provides real time symptomatic data and also reduces the need for multiple scope insertions which are uncomfortable for the patient.

Methods
Due to restrictions of standard scope length, housing the camera on the patient's torso improves image stability. Through an iterative design process, the team explored ancillary attachment methods for commercially available laryngoscopy devices.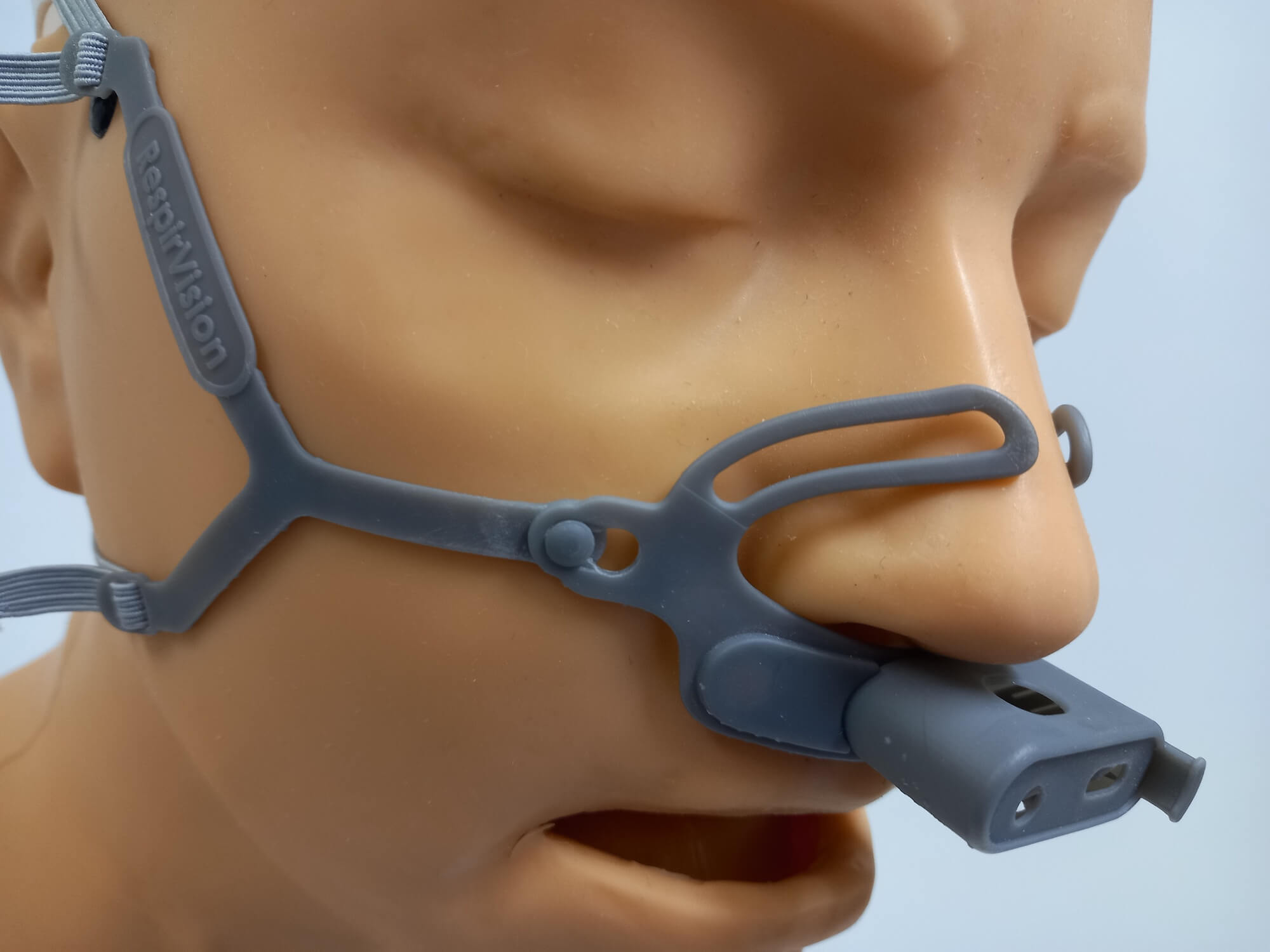 A harness securing the laryngoscope to the patient enables clinicians to monitor upper airway activity during exercise more accurately, and improve care. An animation demonstrating how the mask and harness is fitted is shown in the video here.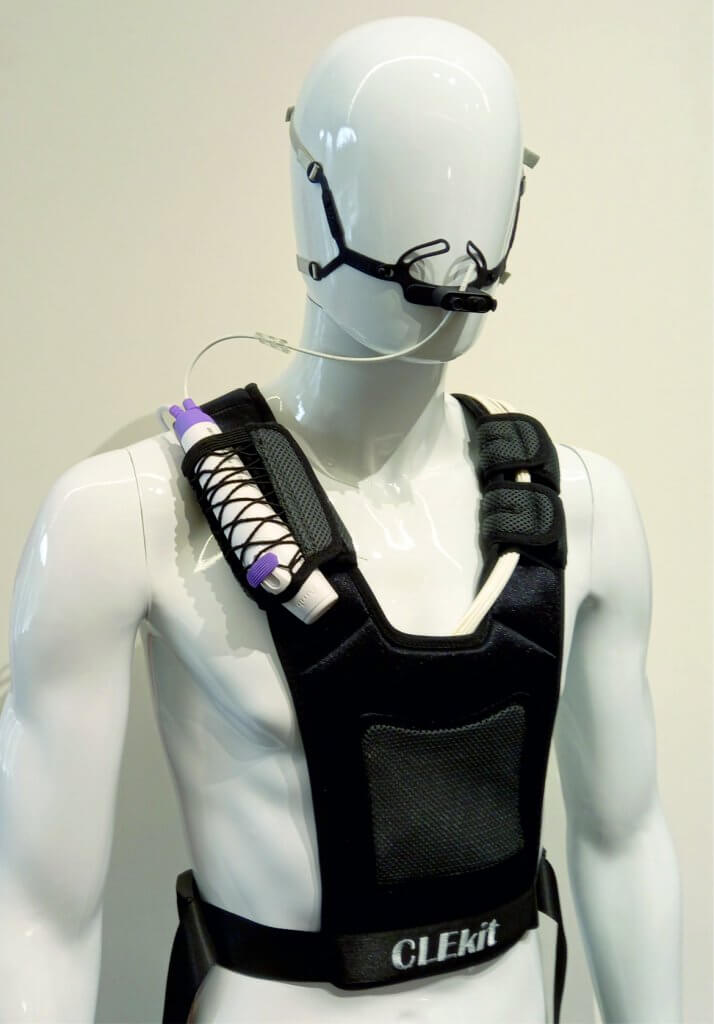 Outputs and future work
Researchers have created 10 proof of concept prototypes. Prototype design was informed by workshops involving clinicians from specialist children's hospitals in the UK, USA, and Australia which include Alder Hey Hospital, the Royal Brompton, Seattle Children's Hospital, Perth Children's Hospital (Australia), and Sheffield Children's Hospital.
This current phase of funded activity is now complete, with a successful testing and validation outcome. TRL5 (beta) prototypes will be dispatched to several UK sites for further testing and validation. Some will go to industry with a view to commercial engagement. The project team is in the process of securing further funding for DFM development and feasibility trials.