The Nano Biogas project considers the viability of small-scale biogas fuel production in rural India. Using Jugaad principles, the team has explored manure as a viable and sustainable fuel source, and is working to build understanding and acceptance of this new fuel alternative in the local community.
Funded by: Research England, Global Challenges Research Fund, Sheffield Hallam University
Partners: Ativa Design, Khanpur Garbi village community
Project team: Heath Read
The Nano Biogas project considers the viability of small-scale biogas fuel production for cooking, heating and energy generation as an alternative to wood, dried dung, or processed, higher cost products like Liquid Petroleum Gas (LPG) in rural India. Currently, women regularly cook on open fires and 'chula' (stoves) fuelled with wood or dried cow manure which produce dangerous levels of smoke and toxins. LPG fuels are safer to cook with but are prohibitively expensive and have high embodied energy costs.
The Indian government aims to improve the living standards of its poorer communities. Aligned with those aims, this project explores whether biomass to biogas conversion is technically viable using Jugaad principles. Jugaad is a Hindi word which means a flexible approach to problem-solving that uses limited resources in an innovative way. The project aims to build understanding of local acceptance to alternative fuel source provision.
Biogas production
The team worked with families in Khanpur Garbi, a small farming village in Uttar Pradesh. The village's 400 cattle produce per day an estimated 3 tons of manure (biomass) per day. The team has worked through several design iterations, using local and discarded materials plus customised components.
Clean fuel used for cooking and heating is produced by the biodigester that has been designed using creative thinking and practices. The biodigester has been put together from discarded, repaired or low-cost items, using 'Jugaad' principles, that capitalise on Indian ingenuity. It has been running for several months reliably, saved in the region of 30% on LPG fuel costs (and associated LPG supply chain embodied energy costs) and the families health has improved. The bioproduct, a rich manure slurry, has significantly increased fresh crop yields.
One participating family report they have been using the output every day to prepare meals.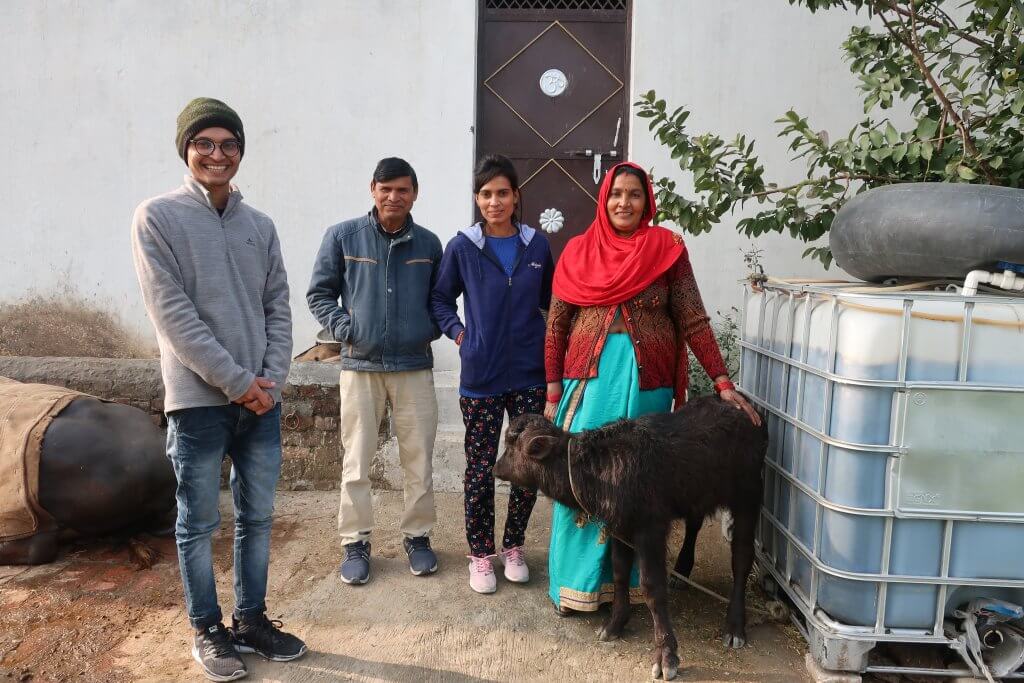 Next steps?
The team is developing a set of design drawings and instructions for wider scale uptake, as local villages ask 'when can we have one?'