This project aimed to improve the quality and design of bathroom furniture for older people with the goal of producing products which all bathroom users find acceptable as well as meeting the specific needs of older and disabled people.

Funded by: Engineering and Physical Sciences Research Council (EPSRC), Ideal Standard

Partners: British Council, Vitra and Istanbul Technical University

Project team: Paul Chamberlain, Heath Reed, Maria Burton and Andy Stanton

The need for user engagement in the design process is particularly acute when the target user group has specific requirements which may not be fully appreciated by designers. The focus of this research, designing to support older disabled living is one such problem. The specific domain of interest, that of the bathroom, provides a number of challenges to user-centred design methodology because of the highly personal, sensitive and intimate nature of the activities that take place there.
"I don't wash my hair in the shower because when I close my eyes I feel unsafe. I wash it in the sink after my shower."

Female, 70.
"I never thought I would have trouble getting out of the bath but I do."

Male, 75.
"Things have changed since we moved here – as you get older, things change a lot."

Female, 63, with arthritis.
The aim of this project was firstly, to develop a robust methodology for fostering co-design dialogue between designers, researchers and people (aged 50+) with chronic age related health conditions which lead to disability and frailty. Examples include arthritis, osteoporosis, stroke and macular degeneration.
Secondly, it aimed to develop a range of innovative and desirable bathroom concepts that are sensitive to the problems of living with disability, which do not stigmatize, are capable of manufacture and will demonstrate the principles we have developed.
The three-year project, funded by the UK Engineering and Physical Sciences Research Council, involved end users, predominantly older users, and Ideal Standard, one of the largest global manufacturers of bathroom products.


Creative approaches were adopted to prompt discussion on bathroom behaviour, often considered taboo, such as the recruitment of older 'community lay researchers' who visited older people in the community and the implementation of public field labs.
In addition, quantitative data was collected (via motion capture, high speed cameras and thin film force sensors) through observational studies undertaken in a simulated bathroom environment.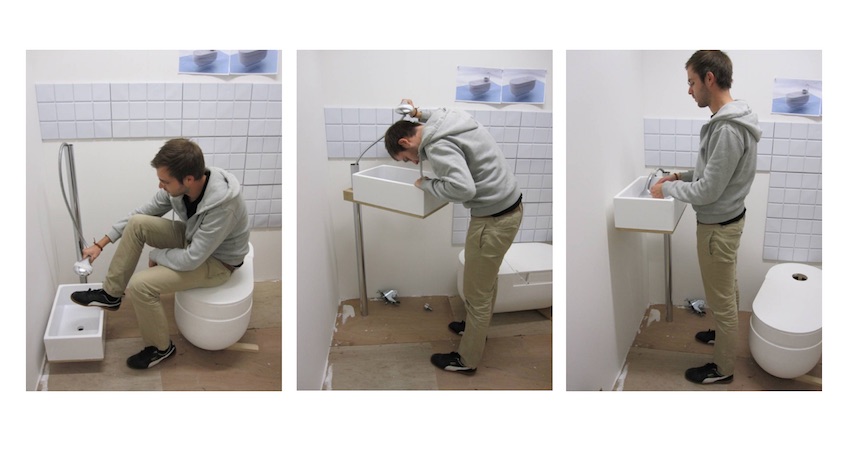 The research evolved to explore further the cultural behaviour of bathroom use through a further project 'loo-lab' which was funded by the British Council in collaboration with Istanbul Technical University, industry partner Vitra and older people living in Turkey. The project featured in the Foundation for Assistive Technology, Annual Parliamentary Report UK.

A bathroom design guide for users, 'If only I knew then what I know now' (endorsed by Age UK) was published from the findings.

The Lab4Living researchers on this project were Heath Reed, Maria Burton and Andy Stanton.

"If you are interested in designing your bathroom to better suit your needs as you grow older, then this will be a useful guide. We always welcome advice based on sound evidence produced by expert researchers, as we have in this leaflet."
– Professor James Goodwin, Head of Research, Age UK, 2011.
Project Impacts
Included in NIHR Dissemination Centre Review
Future Bathroom is included in the recent NIHR Dissemination Centre Themed Review 'Help at Home' (December 2018, doi: 10.3310/themedreview-03345)
Outcomes of the project were awarded 'Most Innovative Design' in 2017 by the Over 50s Housing Association, UK.
Included in parliamentary reports
The Foundation for Assistive Technology (FAST) produce an annual parliamentary report about R&D in Assistive Technology (AT). Included in the 2009-10 report and 2011-12 report.
This work was included in the 2009 EPSRC Pioneers exhibition at Olympia, where it was praised for its innovative research methodology and its focus on the training of older people as community researchers. The Foundation for Assistive Technology (FAST) produce an annual parliamentary report about R&D in Assistive Technology (AT). Included in the 2009-10 report and 2011-12 report.